15 People Reveal The Craziest Stories Of Working In A Funeral Home
Tuesday, Jul 5, 2022, 4:03 pm
There is always an element of fear attached to death and dead bodies. As ordinary people, we don't often get to see a corpse closely. However, funeral workers have to deal with them on a daily basis. From embalming dead bodies to making funeral arrangements, they literally make money from death. They do a fantastic job, though. Some of their work experiences send chills down our spine. Read fifteen workplace stories of funeral workers that will scare the hell out of you.

4.This Scary Incident
I've only experienced something one time and that was around 10PM, after two years with no activity at the location. I had turned all the lights off in the chapel, and when I went to check the casket door, the lights turned back on. I was nowhere near the switch.
-Tejnin

5.The Flickering Thing's All Real?
I'm a nurse, and the only place I've ever seen the lights flicker is just outside the morgue. They are fine almost all of the time but when we bring a body down the lights always flicker. Really creeps me out.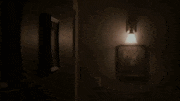 6.That Was Horrible!
I'm a funeral director/embalmer and I have seen... just so many bad funerals. One that really stood out was the time that a family released doves in a rural cemetery, after being told not to, and a hawk ripped one to pieces.