15 Hidden Inappropriate Jokes In Children Cartoons
Wednesday, Aug 19, 2020, 4:59 pm
Inappropriate jokes
, sexual innuendos or subliminal messages should never exist in children cartoons. Unfortunately, throughout the history of children's entertainment, there are many instances where age-inappropriate content is sneaked into mainstream movies and TV shows. Even the popular children's entertainment companies like Disney were grilled in the past by parents for their sexual innuendos and subliminal messages.
You wouldn't believe but most TV shows aired in the past had references to age-inappropriate jokes. Since we weren't old enough to understand them back in the days,
most of those adult jokes
remained unnoticed. As most of our parents weren't big fans of cartoons, they missed those jokes too. Thanks to the internet and people who work restlessly to
ruin our childhood
, we are now able to show you these fifteen hidden inappropriate jokes in children cartoons! Note that the writers or directors didn't include them intentionally. Some of them were paused at the wrong time to notice the joke in it.
1.This Moment from The Magic School Bus
The Magic School Bus is one of the most popular 90s cartoon shows. It aired on PBS Kids. This television cartoon series was made based on the popular book series 'The Magic School Bus'. The clip you see here is from one of the episodes of the show 'Goes Upstream', where the class goes on a fishing trip. If you are an adult, you will understand the funny side of this clip!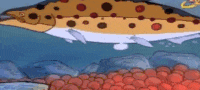 2.This Hilarious Teletubbies Moment
Teletubbies is a British preschool children's television series. This award-winning series was aired on BBC exclusively for babies and smaller children, between the years 1997 and 2001. Teletubbies became so popular that even older children started watching it. In fact, the show is popular among the adults too! Well, who on Earth doesn't like those weird yet cute looking Teletubbies? If you are a fan of the show, this truly epic WTF moment from the show is exclusively for you! We firmly believe you might have missed this when you were a kid! Hey, Dipsy and Tinky Winky, what were you guys doing?! Just in case if you don't know, Teletubbies TV series was revived again in 2015.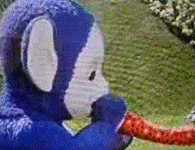 3.SpongeBob, What Are You Blowing?
Well, this is another hilarious inappropriate scene we all missed out when we were kids. If you don't find this picture inappropriate, you are probably too young to be on the internet! While we agree that they are balloons and not condoms, we also strongly feel that animators could have used better graphics, so the balloons don't really look like condoms. The scene is from the episode The Play's the Thing from Season 7. So what do you think of this picture? Do you also agree that the picture genuinely looks awkward, or
we just have a dirty mind
?