12 Celebrity Nose Jobs You Didn't Know About
Tuesday, Dec 6, 2016, 6:45 am
Everyone desires to have a nice, long, and chiseled nose. Nose is unquestionably an important feature of the human face, and a bad looking nose makes a person look ugly straightaway. all of us are not gifted with that symmetrically perfect nose, and there's not much we can do about it unless we are rich enough to knock a plastic surgeon's office door. Rhinoplasty a.k.a. nose jobs have been on the rise in the last few years. The trend is particularly high in the wealthy and celebrity community. Hey, Have you ever wondered if your favorite celebrity had a nose job or are they naturally beautiful? Then let's quench your curiosity thirst and show you 12 celebs who had nose jobs to look gorgeous.

1.Scarlett Johansson
"Black Widow" seems to have some magic performed on her nose as her childhood photo clearly shows us her fat nose. The picture on the left was taken in 1997 when Scarlett Johansson was a 12-year-old girl. She received her first nose job sometime between 2003 and 2004. She said to have received a couple more in the next few years. As you can see in the picture on the right, Scarlett Johansson's nose now looks more refined with thinner nostrils, narrow bridge, and round tip. Her original nose looks not that bad, but when you are a celebrity, you are always under pressure to look perfect. Interestingly, There are thousands of
fans crazy about Johansson's feet and legs
as well.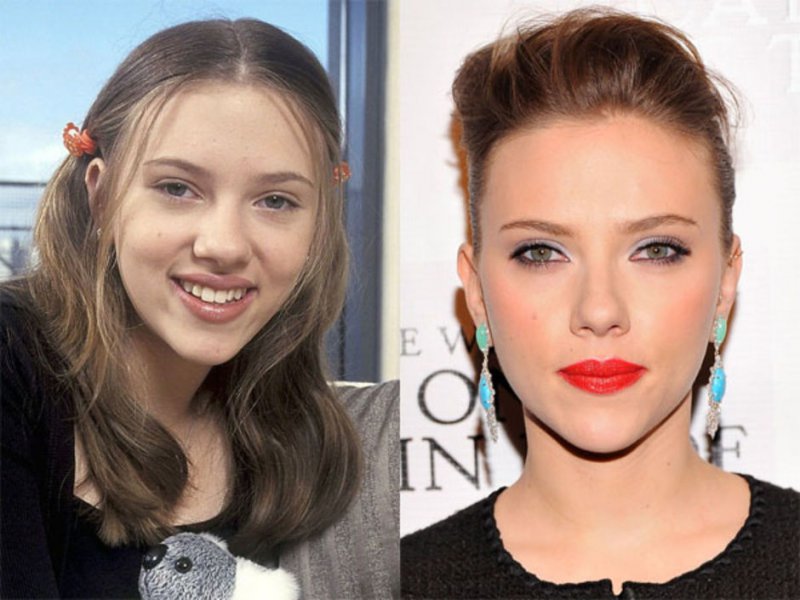 2.Fergie
The singer and the member of popular American music band "The Black Eye Peas," Fergie, apparently seems to have gone under the knife to narrow her wide nostrils. The old picture of Fergie on the left shows her original nose, and the newer one on the right suggests us that she may have had a nose job done previously. Fergie is one of the few celebs who is known for living a healthy life. She, on many occasions, denied plastic surgery and
boob job
rumors. We have no idea why she denies cosmetic surgery rumors, but this picture makes us think that she may be just lying.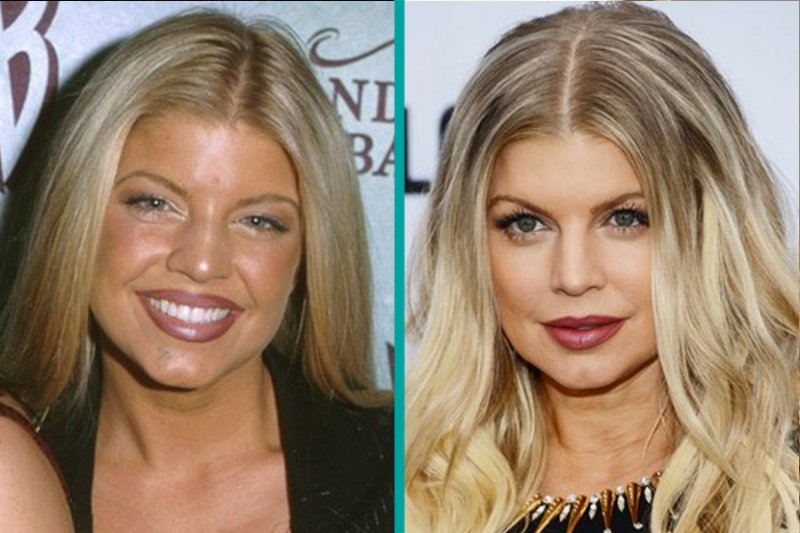 3.Miley Cyrus
The eccentric emcee, Miley Cyrus, have reportedly gone through many plastic surgeries to correct minor defects on her face and body. While we can't produce evidence for other cosmetic procedures, we have one here that proves the former Disney star indeed had a rhinoplasty procedure performed on her nose. The old Miley we knew had an unattractive nose with a plump tip. The "Bangerz" star now has a nose that looks perfect. We don't think she unnecessarily opted for a nose job. She needed one, and she got one!