15 Weirdest Outfits At The Grammys Over The Years
Tuesday, Jul 12, 2022, 7:53 am
If there is any highly anticipated awards show for singers, it has to be Grammy Awards. It's an annual ceremony honoring the top music artists in different music disciplines. But we aren't here to discuss who has won the most awards at Grammys, but instead, we have collected a list celebrities who have worn the weirdest dresses for the event over the past decade. Every year, we notice at least half a dozen celebs attending the Grammys wearing bizarre outfits. Unfortunately, we have also seen some of the top celebrities following this trend. Some of these outfits make us wonder what exactly is wrong with them and their fashion designers? Check fifteen weirdest celebrity outfits seen at the Grammys, over the years. Prepare yourself to see some of the wackiest dresses you have ever seen in your life!

1.Margaret Cho, 2004
Thanks to this
bizarre and highly revealing dress
, the internet named
Margaret Cho
the worst dressed star at the 2004 Grammys. Many people including the fashion critics criticized her poor fashion choice. The dress was so revealing that she could not even hide her nipples from peeking out. Shortly after the event, Margaret Cho expressed her deep displeasure over people who thought her dress was bad. She said it was the best dress she had ever worn. She even thanked the person who designed the dress, on her blog!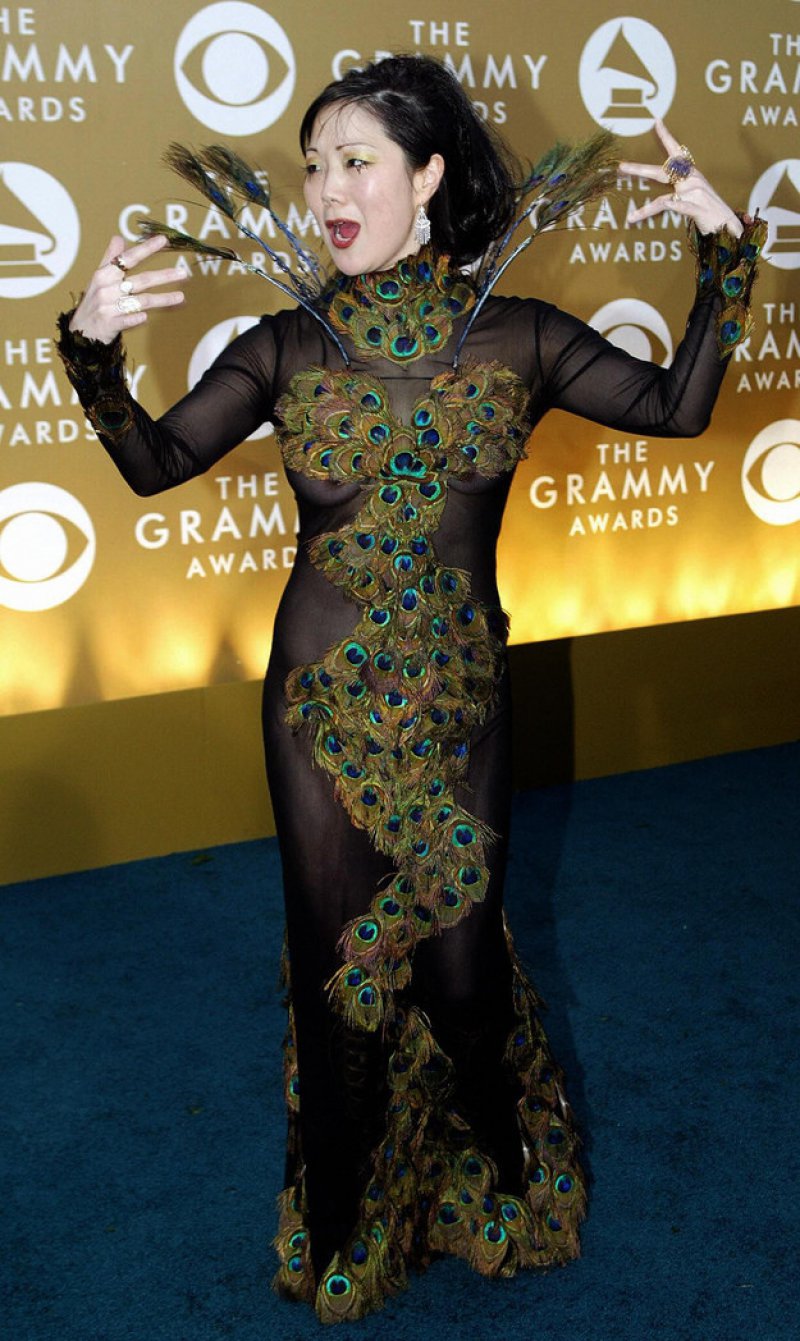 2.Jennifer Lopez, 2000
You must thank this outfit because it was the reason Google developed 'Google Images' in 2001. Lots of people were searching for this picture of Jennifer Lopez, and they couldn't precisely find it. Google decided to do something to solve the problem, and they invented 'Google Images' in the process. Despite the outfit's popularity, it is still one of the weirdest dresses worn by a celeb at the Grammys.
3.Lady Gaga, 2010
Lady Gaga is an eccentric woman, and her fans get surprised only when they see her in a proper dress! She attended 2010 Grammys wearing this 'galaxy dress'. We have to admit she looks like an alien princess!
Lady Gaga has this habit of wearing bizarre outfits to any big event just grab everyone's eyeballs towards her
. If you did not find this Lady Gaga 2010 Grammys outfit strange, let us remind you that she arrived at 2011 Grammys in an egg! She has not really given up on wearing those shocking dresses and costumes. If you think this galaxy dress is not weird, perhaps it is a good idea that you check some more outrageous dresses of Lady Gaga here!