15 Dumb Yahoo Questions That Will Make You Cringe
Monday, Aug 16, 2021, 6:43 am
Back in those days when Yahoo was ruling the Internet, the cyber giant had introduced numerous online initiatives. Yahoo Answers was one of them. It has been serving people since its inception in 2005 by helping people to get quick answers to their questions or general inquiries. Yahoo Answers has this bad reputation of hosting too many low-IQ and pathetic questions and answers on its website. It's now the time to check 15 of those dumbest Yahoo Questions ever asked. Yahoo was once valued at more than $100 billion, but Verizon has recently acquired it in a meager $5 billion tech deal!

10.Penis in Toaster
Oh, god no! Why was his penis there in the toaster in the first place? If you are a man, you are convinced enough that no one can have the leisure of questioning on a website when their penis got stuck in a toaster. He may be a troll, but similar incidents have happened in real.

11.This Question from a Pregnant
When you are pregnant, little doubts like these can make you feel worried. The question is perfectly fine from a pregnant lady's perspective. The hot and cold temperatures of food don't affect the baby. Babies grow in the uterus, not stomach. So,
it's perfectly fine to enjoy hot tea or cold beverage during pregnancy
(from the temperature point of view).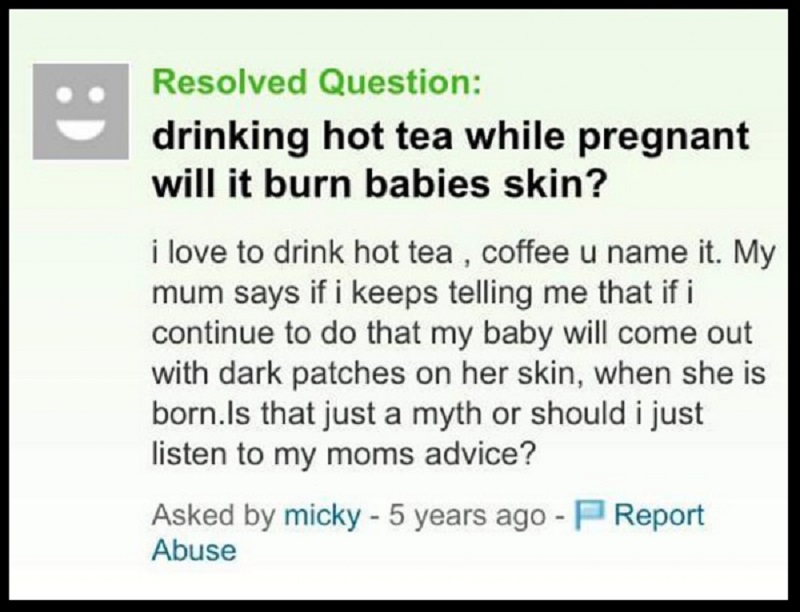 12.This Person Who Wants to Unbake a Cake
It is a funny question, and questions like these are a big threat to humanity! When you read a question like this, you tend to lose all the faith you have in humanity. You can't unbake a cake unless you travel back in time. Traveling back into time is something even the smartest person ever on the planet can't do.