12 Hilarious Apology Notes Ever
Friday, Aug 28, 2020, 8:47 am
Apologizing to someone is a difficult thing to do. One needs to have a lot of courage to admit a mistake. Despite feeling repentant, some people wouldn't dare to say a sorry to the other party fearing that their apology might be rejected. Some people prefer writing an apology letter instead, so they don't have to face the one to whom they need to ask for forgiveness. An apology letter is one of the many things that are hit by the smartphone culture. These days, people just send SORRY to their peers as a text or instant message. Let us tell you that an apology note increases your chances of receiving clemency. Just in case if you don't agree with us, read these 12 hilarious apology notes!
#12 Hit And Run Apology


This guy is sorry, but not that sorry. He took the time to write a well thought-out apology for hitting someone else's car, but he refuses to leave his information to teach the person a lesson. The guy does get a huge kudos for attempting to fix the dent, but sadly his method only made things worse. Moral of the story - Take the bus if you don't know how to drive or park.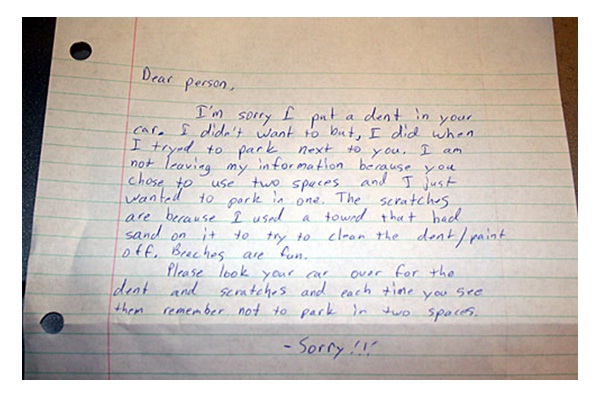 Report