12 Hilarious Friday Memes That Will Brighten Up Your Friday
Saturday, Aug 14, 2021, 1:57 pm
FRIDAY - the one word with six letters is powerful than one thousand inspirational quotes when it comes to motivating an individual! We all love Fridays, and most of us love the Friday night more than the entire weekend! Friday is the day we finally take a break from week long hard work. Friday is the day when can hang out with our friends and party hard! Let us all acknowledge the greatness of Friday and celebrate it with these bunch of funny Friday memes. There's no better way to kill time at the office on a lazy Friday noon than browsing these Friday memes!

4.That Feels Great!
Sometimes, we mess up dates so badly that we either live a Thursday thinking it is Friday or spend a Friday believing it to be Thursday. The first case is horrible because your mind prepares your body for a terrific Friday night! The second assumption, just as described in the meme, is important because, theoretically, you get your weekend a day before than anticipated. Just to remind you, if you are thinking about Friday every day, your life is in bad shape. Fridays are exciting, we agree, but waiting for them just prove that you remain unhappy in the remaining days.
5.Netflix And Chill Solo!
If you don't feel like hanging out with friends, just spend the Friday night in the comfort of your own bedroom with a pint of beer or glass of wine, some yummy food, and a great movie! Yes, people do judge those who drink alone or have a good time by themselves because they think it's not okay to be a loner. They believe that one can enjoy only when they are in a group. They may be right, or they may be wrong, but if you want to do Netflix and Chill Solo, you can do that because it's your life and choices, not someone else's.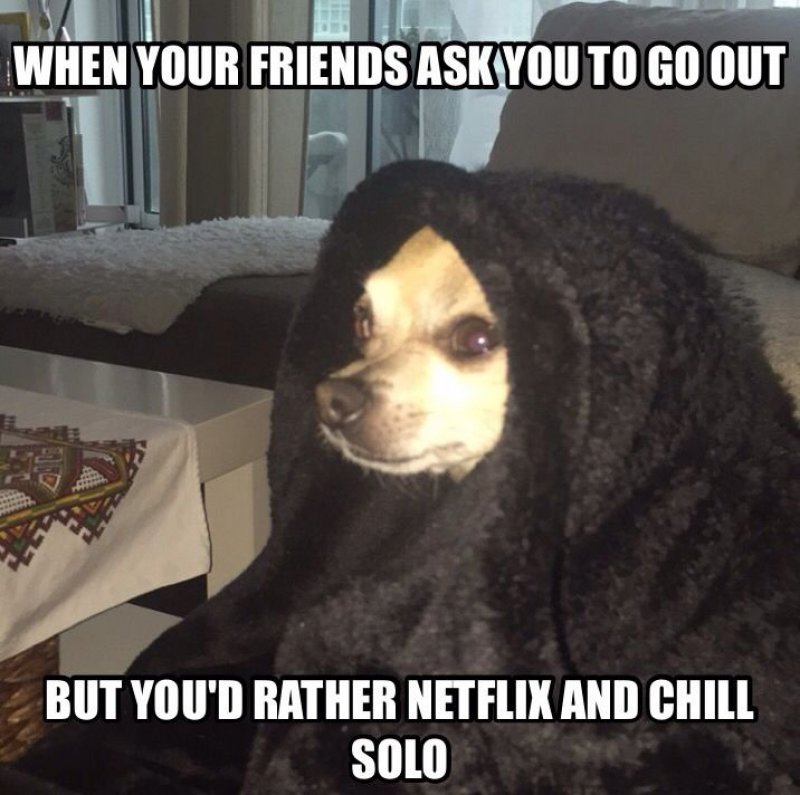 6.Haha, That's Funny!
Do you know a jobless guy or girl who gets excited about weekends as if they are working? We all have them, and they do sound funny when they say TGIF. Remember, weekends make them happy because they finally can hang out with their friends who are usually unavailable on weekdays. Unemployed people spend their entire workweek fruitlessly trying to secure a job, not finding friends to hang out. That is why they find weekends more exciting than their working counterparts.