12 Hilarious Overwatch Memes That Are Sure To Make You Lol
Thursday, Aug 20, 2020, 12:03 pm
In May 2016, Blizzard Entertainment released the team-based and first-person multiplayer shooter game, Overwatch. With over 25 million players, Overwatch has emerged as one of the most played first person shooter games in the recent times. What's great about the video game, though, is that it just took less than a year to grow a huge player base across all gaming platforms. Anything that is famous or infamous turns into memes these days, so, unsurprisingly, there are tens of funny Overwatch memes on the internet. Have a look at some of those hilarious memes about Overwatch.

1.So Sherriff Woody Is McCree?
Now, that's interesting! More than Woody, Don't you think McCree looks identical to Clint Eastwood in his Western movies? As McCree is an American cowboy, he bears a resemblance to many similar characters such as Woody and all those Western roles Clint Eastwood played. In our opinion, McCree looks a lot like Ray McCall from "Call of Juarez." McCree does look terrific, but when it comes to the gameplay, he is not the best. We didn't mean to say McCree is a useless character! You just need to be extremely good at aiming to win a game with McCree.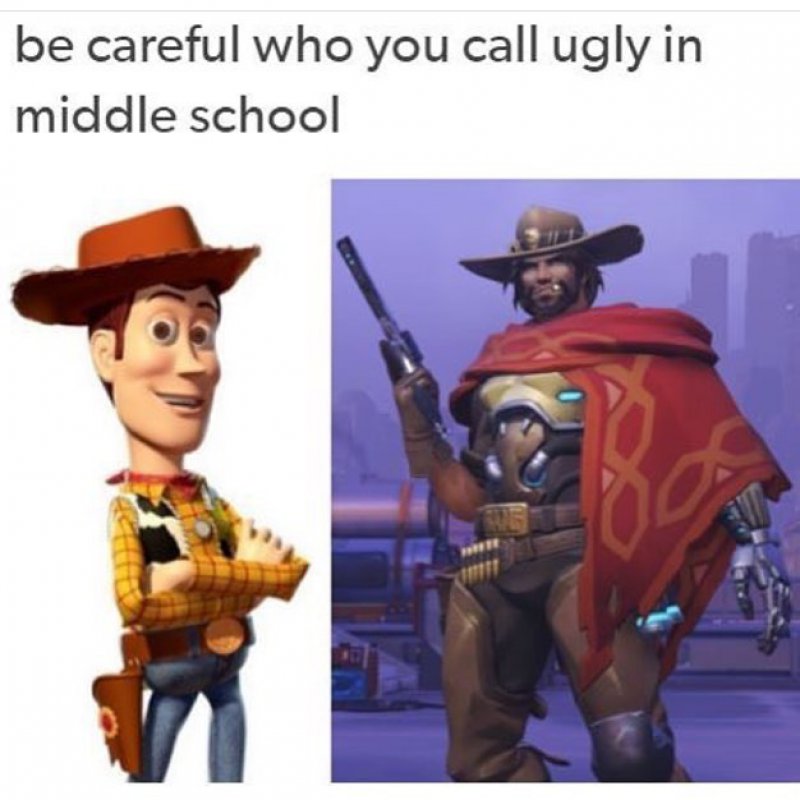 2.Justice Rains From Above
"I will protect the innocent," "Justice Rains from above,"
are two of the most interesting quotes Pharah says during the gameplay. Apparently, this meme teases Pharah for her obsession with justice and commitment to protecting the innocent. As you know, Pharah a.k.a. Fareeha Amari is one of the most powerful Heroes of Overwatch. The 32-year-old Egyptian security officer's back-story is absorbing. She dreamed of becoming a part of Overwatch, and she worked very hard to make her dream come true but too bad, Overwatch dissolved before could be a part of it.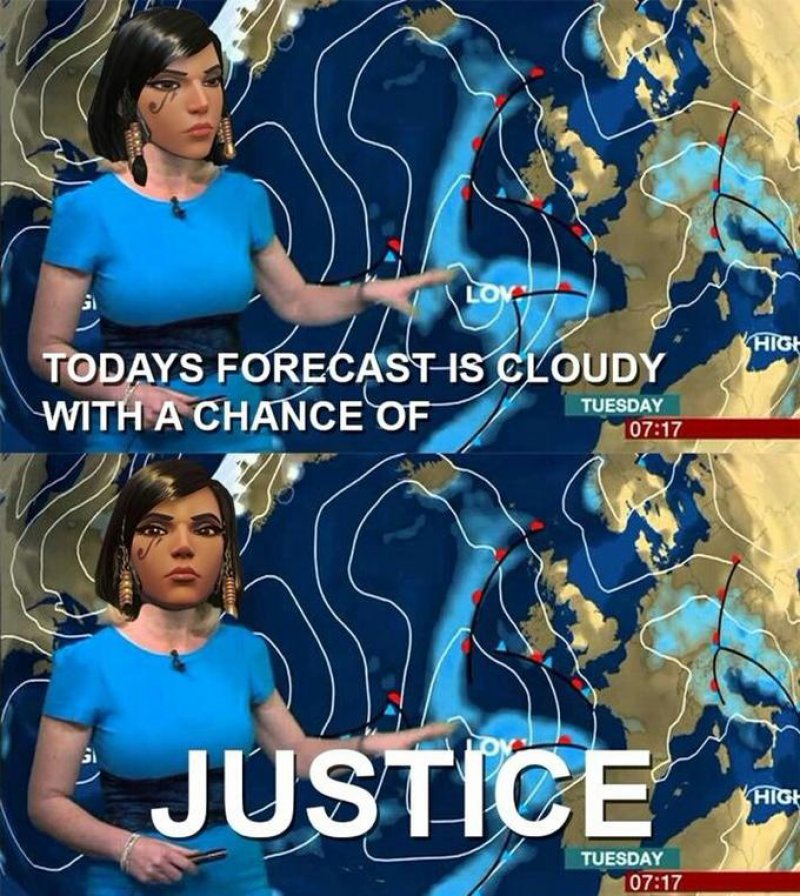 3.When You Hook Them Just Right
Any Roadhog's fans here? Well, those who love a game for its violence and destruction love to pick Roadhog as their Tank Hero. As you know, Roadhog hooks his opponent pulls them closer to him and shreds them to pieces with his Scrap Gun. Roadhog is a heartless killer. He is a tough Hero, but his oversize makes him an easier target for opponents. Roadhog's long-range hooks are great, but his weaknesses such as immobility, being an "Ult battery," etc. make him a less preferable Tank Hero.