15 Images That Show You Shouldn't Add Your Mom On Facebook
Friday, Jul 8, 2022, 4:52 pm
Never ever add your mom to your Facebook friends' list, unless you are 100% sure about doing it. Adding moms to you Facebook account is more dangerous than adding your employers! Moms, especially those who are completely new to Facebook will sure embarrass you with their innocent, intentional or unintentional status updates, comments etc. Here are fifteen images that show why you shouldn't add your mum on Facebook.

1.Mom's Advices are Always Best
First: When you add your mom on Facebook, be very careful before posting statuses like these. We all might not have mums as cool as this one you are seeing in the picture.
Second: When you do, be aware that your mom will read it and probably get back to you in one or the other way.
We find this mom's advice cool and interesting! After all, experience matters!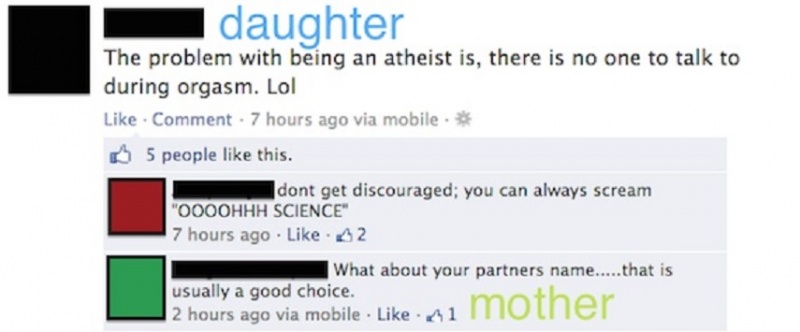 2.Doing the Facebook!
As you all know, DTF stands for 'down to f**k'. This naughty guy posted a Facebook message asking if anyone there to f*ck. His sister promptly replied to him telling his message might be read by his mother. The naughty brother didn't stop there, and went on to give really awkward and hilarious replies to his sister and mother!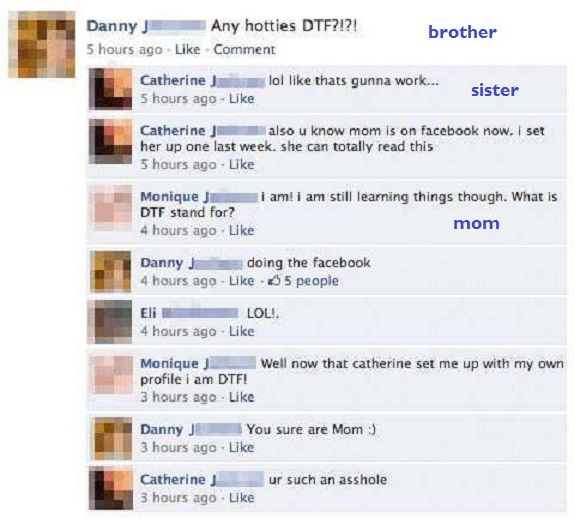 3.Awkward Facebook Likes
Those who are new to Facebook are generally not aware of the fact that whatever they do on Facebook from posting photos to liking links will be displayed to general public. Facebook has enough privacy filters to precisely share what you want to, even to a selected group of friends, or just one friend. Most people who are new to Facebook don't have an idea on these features. See how a mom here liked an awkward link!