15 Teachers And Their Epic Facebook Fails
Sunday, Jul 3, 2022, 8:48 am
Teachers are cool, man. They are smart, understanding, and caring. We must thank them for teaching us a lot of things, and help us to shape our careers. Whoa, whoa, whoa - wait a minute! Did we just sound like we love teachers a lot? Well, of course, we do. But only the good ones. Let's talk about the bad ones or the dumb type. Sadly,
bad teachers are everywhere
, and the chances are high that you may personally know one too. Look at these 15 teachers who were failing badly on Facebook! Their epic Facebook fails are too hilarious not to laugh at!
1.This Former Teacher Who Can't Hide His Urge on Facebook
This former teacher, as you can see from the picture, has shared a link on Facebook. While there is nothing wrong with the link or the study, it was his personal message that sounded a bit awkward, especially from a student's perspective. There is nothing wrong in expressing our views, or enjoying our freedom. However, we need to make sure that we don't hurt or embarrass anyone one, in the process.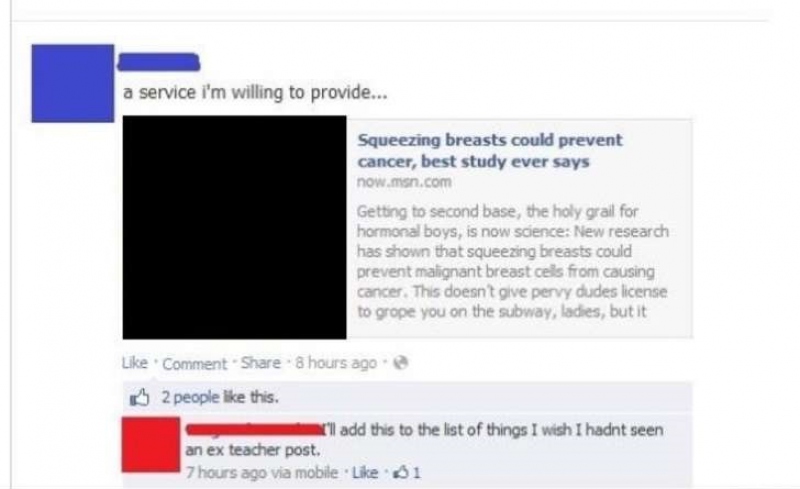 2.This Awkward and Hilarious Teacher Fail
This 'kooshball' got fired from a school because he attached webcams to school locker rooms. It looks like his nasty act was still haunting him. His response was hilarious when his student introduced him to his
Facebook friends
. This image went viral, much to this teacher's dislike. Nonetheless, this picture is hilarious.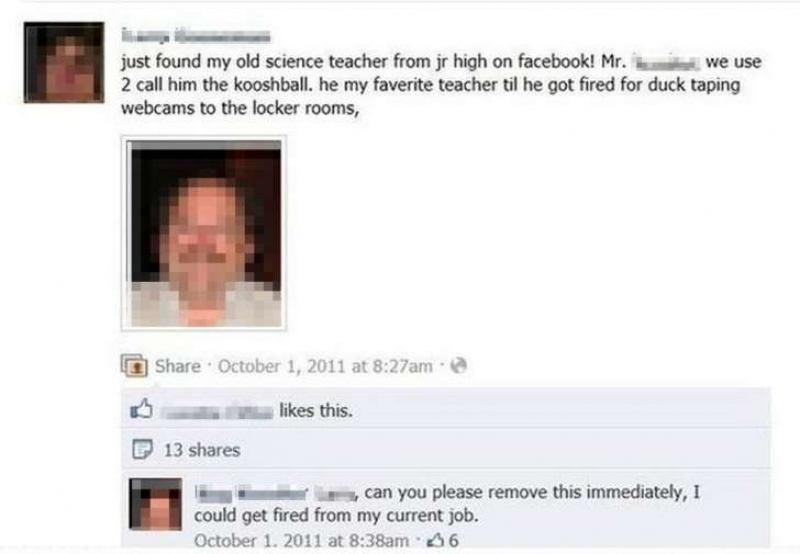 3.This Teacher Who Can't Hide His Intentions and Emotions!
Did you get what this person did there? He or she actually liked two Facebook pages named 'sex at work is the best', and 'I Love Being a Teacher'. Nothing seems to be correct here. This could be the horrible social media blunder one can do as a teacher. People may have their explanations when they do something. What others think of you also matters, especially when you are in a profession like teaching.