12 Amazing Buddha Tattoos That Will Make You Say I Want One
Monday, Jul 4, 2022, 12:24 pm
If you are looking for a tattoo that conveys peace, tranquil, and meditation, then you should add Buddha tattoo to your research book in addition to those peace symbols. Gautama Buddha, as you know, was the founder of Buddhism. The religion is known to be one of the world's most peaceful religions. Whether you believe in Buddhist preachings or not, a Buddhist tattoo on your skin straight away leaves an impression that you are one among many people who wish for peace and harmony in an otherwise chaotic world. Check these 12 amazing Buddha tattoos for inspiration.

4.This Full Arm Buddha Tattoo
It is a fabulous Buddhist tattoo as well. Besides being cultural or religious, this tattoo boasts touch of elegance with elements of abstract in it. The ink splash just behind Buddha's art is astonishing. The Buddha's face here in this tattoo is accurate unlike the previous one. There's reference to Lotus in this picture as well, which is nice. Remember, whenever you choose to have God as tattoo, always prefer to have some relevant religious symbols to be part of the tattoo. Lotus, lights, beads, etc. make a Buddha tattoo even more spectacular.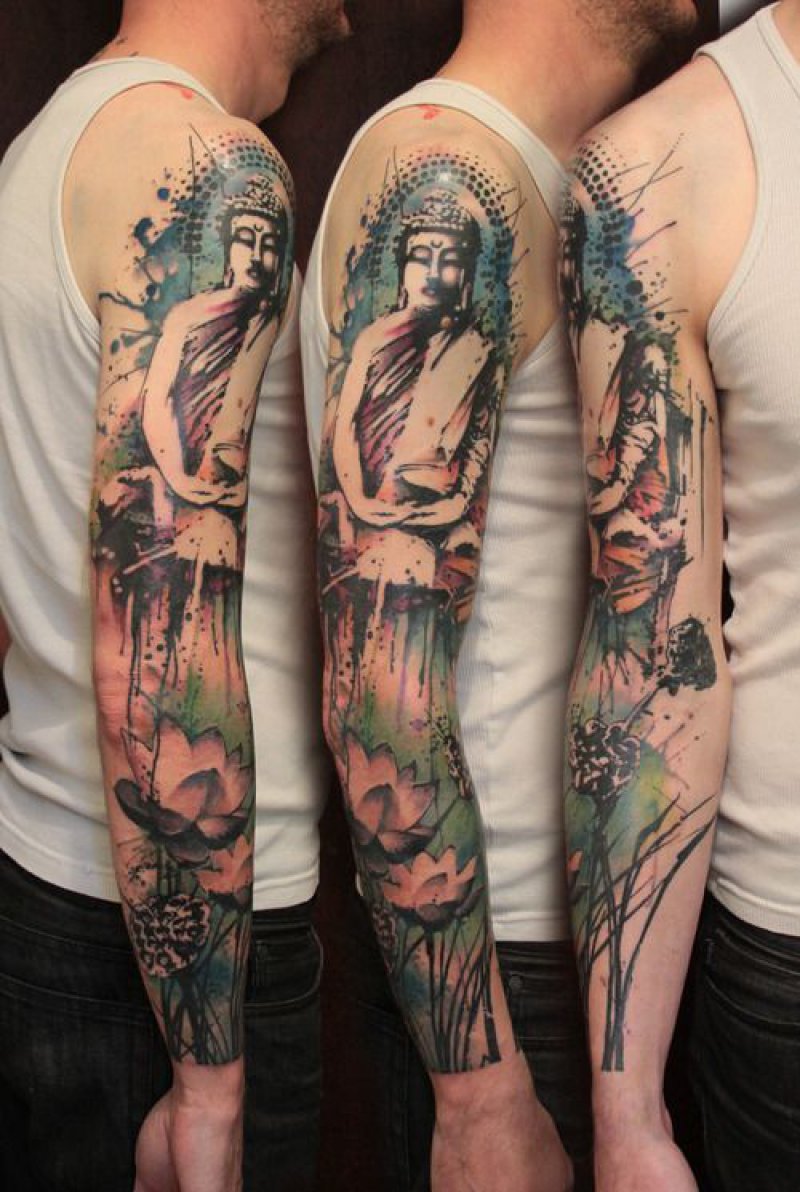 5.This Weird But Wonderful Buddha Tattoo
The reason why we call this tattoo weird is Buddha lacks a visible face here. Instead, there's Om on his face encircled in an inverted triangle. We aren't sure if the person in the image is a man or woman, but inverted triangle often represents women and feminism. Buddha is seen holding Earth with one hand and what seems like a "third eye" with the other. It appears the person is trying to convey a complicated message with this tattoo that we believe only Buddhists are going to get it.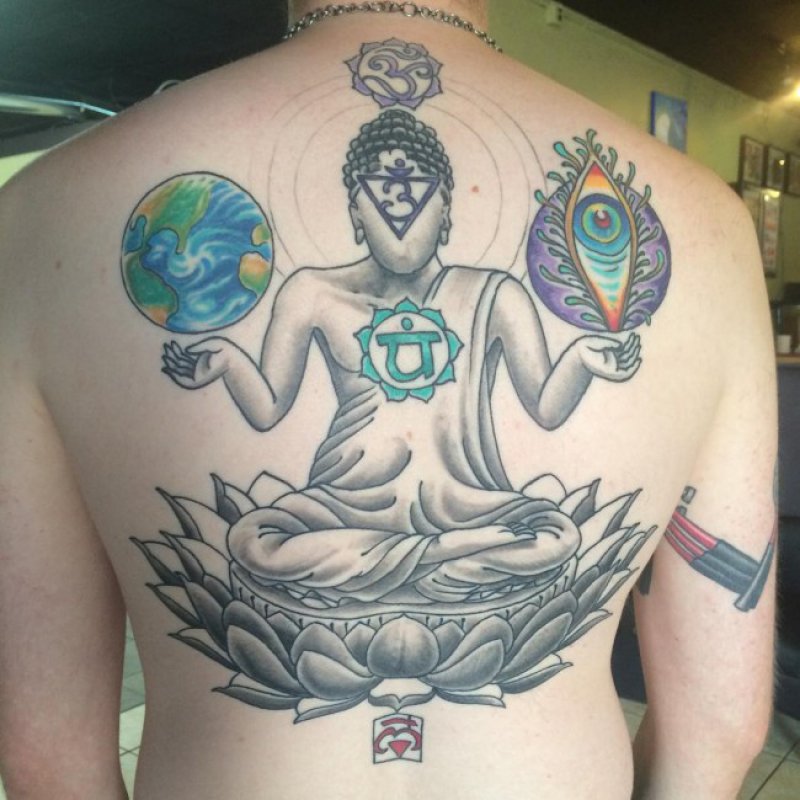 6.This Strange But Interesting Fusion
We must admit that this is indeed a sophisticated tattoo, as it has an incredibly rich design. We appreciate the tattoo artist for having a steady arm and sharp eye for detail. What's interesting, though, is that mash-up of Lord Buddha and a burning skull. Buddha, as you all know, preached peace and harmony, and he was highly against violence. Here, in this picture, the skull on fire perhaps means something else from that guy's perspective. From what we can see, it does look a bit strange.