12 Best Restaurant Games For IOS And Android
Friday, Jul 8, 2022, 8:14 am
Most of us love eating tasty food. Don't we? Food is inarguably one of the best things ever happened to humankind. Appetizing or not, every one of us eats something every day just to keep ourselves alive. Eating isn't a big deal. However, cooking is! Not everyone can cook great food. This is the reason why we have a restaurant in every corner of a town. Did you know that the global restaurant industry nets more than $800 billion a year in sales? Whoa, that's a lot of money! Hey, do you feel like starting a restaurant already? Don't worry about your lack of experience. Play these top 12 best restaurant games for mobile to cook food and run your very own virtual restaurant business! We are sure to learn a thing or two about the food industry!

1.Cooking Fever
This game beats every other game in the restaurant/cooking genre with its graphics, gameplay, levels, availability of abundant resources like ingredients and kitchen accessories. Cooking Fever game lets you cook more than 400 different dishes using 150+ cooking ingredients, and serve them to your customers. You can spruce up your restaurant by using in-game goodies, and even offer discounts and freebies to attract more customers. Be a star chef and a brainy businessperson with this highly interactive and immersive restaurant game, Cooking Fever! It is a free game with paid upgrades. With over 50 million downloads and 1.5 million positive reviews, Restaurant Story remains the best restaurant game in the mobile segment.
Game: Cooking Fever
Price: Free to Install and Play, Optional In-app Purchases
Downloads: 50 Million to 100 Million
Reviews: 1.5 Million+
Average Rating: 4.4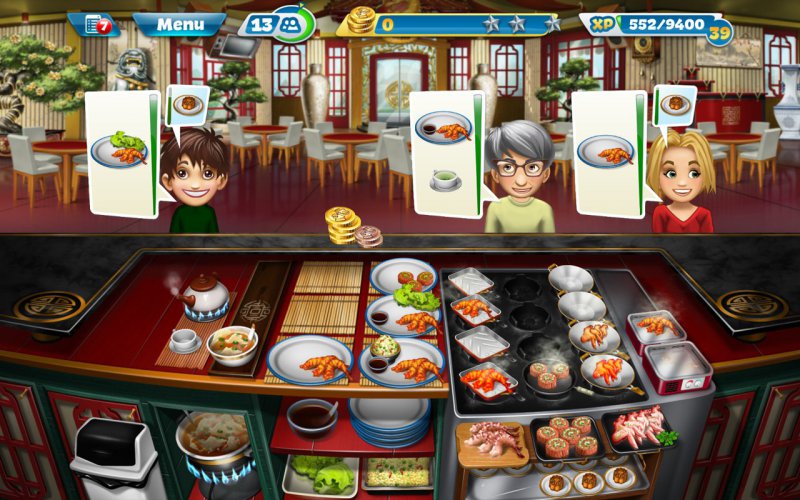 2.Burger
It's name may sound very simple, but Burger, is one of the most downloaded and top rated restaurant game for Android and IOS. A fast food restaurant chain hires you to serve delicious food to guests quickly. Your job is to cook fast food items like burgers, muffins, cupcakes, fries, etc. This game has over 400 exciting levels. It is a casual time-management game, hence be prepared to face some serious cooking challenges! The good news is that this game is completely free. There are no paid upgrades either.
Game: Burger
Price: Free to Install and Play
Downloads: 50 Million to 100 Million
Reviews: 810,000+
Average Rating: 4.2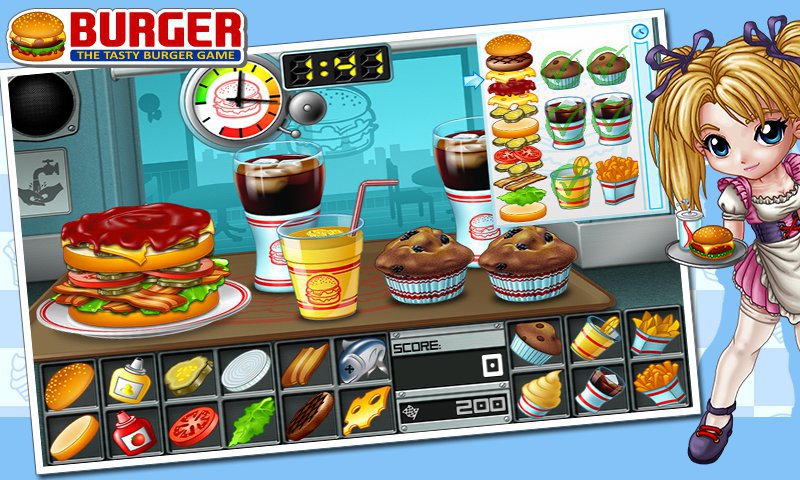 3.Bakery Story
Bakery Story lets you build a dream bakery of your own and serve customers. Make burgers, sandwiches, pizzas, ice creams, juices, and a whole lot of yummy food items and sell them to customers. Make great food and receive extra coins as tips! Bakery Story is a casual game. You need to play it for months to build a successful bakery business. Now this means you need to have a lot of patience, creativity, and an eye for perfection. Bakery Story is a free game as well. However, you may need to purchase some in-game items to make your virtual bakery business successful in less time.
Game: Bakery Story
Price: Free to Install and Play, Optional In-app Purchases
Downloads: 10 Million to 50 Million
Reviews: 395,000+
Average Rating: 4.3