12 Best Restaurant Games For IOS And Android
Friday, Jul 8, 2022, 8:14 am
Most of us love eating tasty food. Don't we? Food is inarguably one of the best things ever happened to humankind. Appetizing or not, every one of us eats something every day just to keep ourselves alive. Eating isn't a big deal. However, cooking is! Not everyone can cook great food. This is the reason why we have a restaurant in every corner of a town. Did you know that the global restaurant industry nets more than $800 billion a year in sales? Whoa, that's a lot of money! Hey, do you feel like starting a restaurant already? Don't worry about your lack of experience. Play these top 12 best restaurant games for mobile to cook food and run your very own virtual restaurant business! We are sure to learn a thing or two about the food industry!

4.Cooking Dash 2016
Cooking Dash 2016 is yet another exciting restaurant and cooking game on the list. Inside the game, you run a restaurant business, and are on TV at the same time! Work your way up by cooking and serving delicious food to your customers. Cooking Dash 2016 is a time-management game. It is all about doing things on time. Choose from hundreds of ingredients. Create your own TV show and become a celebrity chef! Serve VIPs and celebrities who make a surprise visit to your restaurant. Overall, Cooking Dash 2016 is an excellent and entertaining restaurant game you shouldn't miss playing.
Game: Cooking Dash 2016
Price: Free to Install and Play, Optional In-app Purchases
Downloads: 10 Million to 50 Million
Reviews: 318,000+
Average Rating: 4.2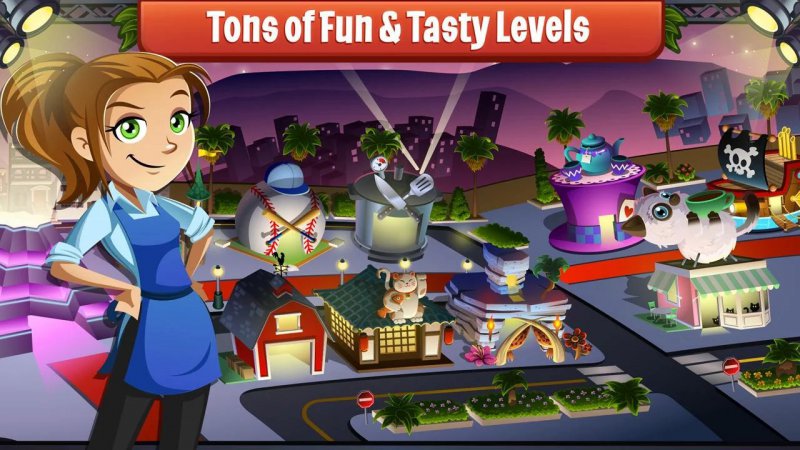 5.Restaurant Story
Restaurant Story is another top restaurant simulation game with spectacular graphics, smooth gameplay, and a whole lot of features. You need to build a restaurant from scratch, create a menu, and serve customers with food and make money in return. How successful can you be if you start a restaurant business? Well, this game has the answer! Be intelligent, creative, and make your restaurant one of the best in town! In addition to just cooking and serving delicacies, you also need to spruce up your restaurant with beautiful furniture and decorative items to attract customers.
Game: Restaurant Story
Price: Free to Install and Download
Downloads: 10 Million to 50 Million
Reviews: 435,000+
Average Rating: 4.2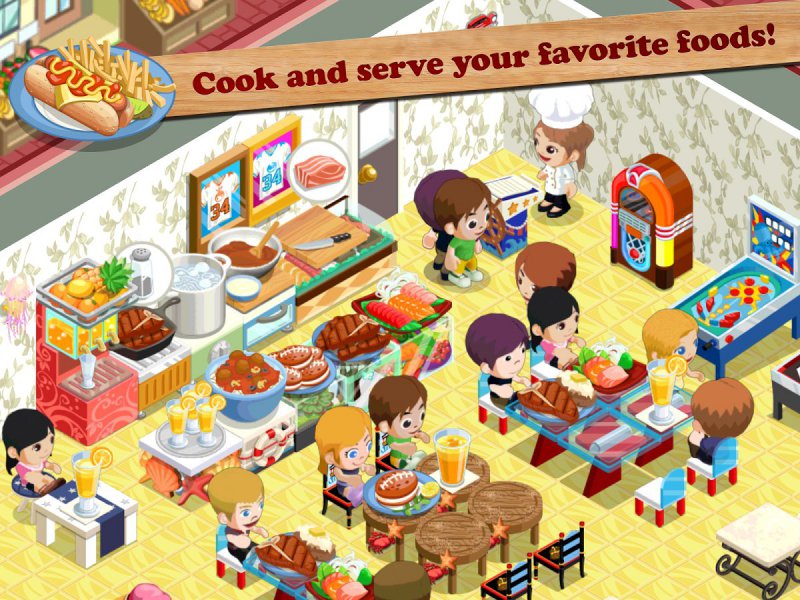 6.World Chef
World Chef is yet another popular game in the restaurant game genre. As a player, you have to build a top restaurant from scratch. In the beginning, you start with a small tiny restaurant. With your skills, creativity, and dedication, you can grow your business. Make money by selling food and spend it on expanding and decorating the restaurant. Remember, having beautiful interior brings in rich and VIP customers! They buy the priciest items on your menu. World Chef is a real fun game to play. It has more than half a million reviews on Google Play and App Store.
Game: World Chef
Price: Free to Install and Play, Optional In-app Purchases
Downloads: 10 million to 50 Million
Reviews: 500,000+
Average Rating: 4.4