Simple Halloween Costumes You Can Make Within A Day
Sunday, Aug 15, 2021, 9:34 pm
What's your costume for this Halloween? If you have not yet decided what to wear for this Halloween, check all these fifteen pictures that show you simple Halloween costumes that can be made in a day, if not, in few hours! These costumes are perfect to those who hate spending big time or money on making Halloween costumes, but still want to wear some that stand out.

4.Dick in a Box (SLN) Halloween Costume
Dick in a Box is a music single released by 'The Lonely Island' featuring Justin Timberlake. 'The Lonely Island' is a popular comedy trio, formed by Akvia Schaffer, Andy Samberg and Jorma Taccone, which rose to fame when they were hired for 'Saturday Night Live'. To make this costume, all you need to do is get a Christmas present and super glue to attach the box around your groin area!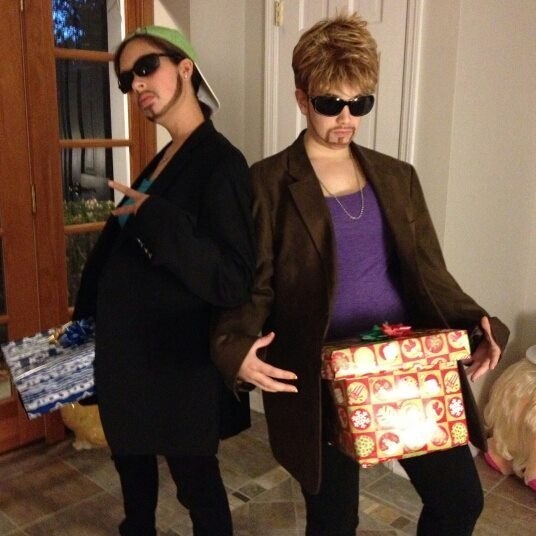 5.Rubik's Cube Halloween Costume
Why simple costumes like these score better than many complex or pricey costumes? It is because people can easily identify the theme/concept of your costume, and things like Rubik's cube, Sims diamonds, Tinder logos etc are already popular. You are just piggybacking on an already popular thing. Making Rubik's cube costume is very easy. Use a box, and glue/tape colored and square shaped construction paper as seen in the picture.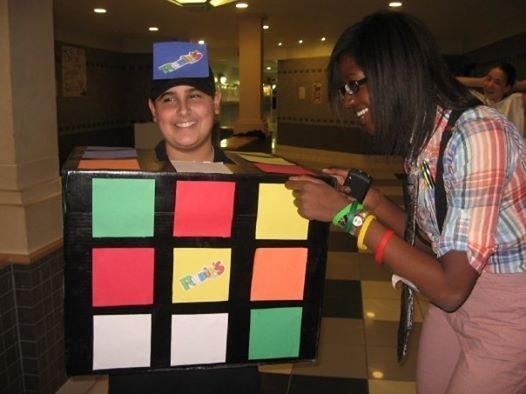 6.E.T. the Extra Terrestrial Halloween Costume
This costume looks great! And, it is fairly easy to make as well. What do you need? You need a basket, a cutout of E.T., white towel to cover E.T. cutout, and a red hoodie. You just need to place them like how this girl did in the picture.