24 Cartoons Voiced By Celebrities
Friday, Jul 1, 2022, 5:49 am
Celebrities usually give their voice to popular cartoon characters of leading animated movie franchises, of course in return for money. Almost all the recently released top animated movies have big Hollywood names listed in their cast. For example, the stars like Ben Kingsley, Bill Murray, Scarlett Johansson, and Idris Elba voiced the top characters of "The Jungle Book" (2016) movie. We don't often see celebs giving their voice to cartoon characters from the TV shows or lesser-known animated films. There are many instances in the past where celebs lent their voice to such cartoons. Check 24 celebrities who voiced some of our favorite cartoon characters from TV shows and animated movies.

#11 Fergie As Sally Brown In Peanuts


Most of us know Fergie as a member of the famous hip-hop music group "The Black Eyed Peas." She voiced the 'Sally Brown' character of the "Peanuts" TV series and its two spinoff movies. According to Fergie, there are many similarities between her and the "Sally Brown" character. Well, Fergie is also a blonde like Sally Brown, and two of them have a crush on Charlie Brown! Remember, she did this between the years 1984 and 1990, when she was a child. Fergie was a
well-known child actor in the 90s
. She also appeared on the NBC's "Kids Incorporated" TV show.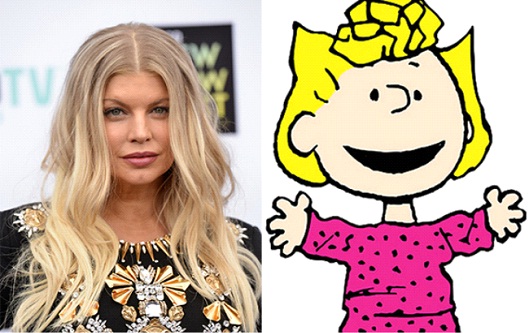 Report