12 Trash Polka Tattoos You Need To See If You Are Planning To Get One
Thursday, Aug 20, 2020, 11:34 am
Trash Polka is a tattoo style that was invented by two Germans named Volker Merschky and Simone Pfaff, in 1998. Trash Polka tattoos have become popular lately as more and more people around the world are showing interest in inking their bodies with a design as unique as Trash Polka. The design is a mix of fine art and some trashy lines, smears, smudges, and strokes. The Trash Polka art is like drawing a beautiful piece of art on the body and then spoiling it with unappealing designs. Check these 12 Trash Polka tattoo designs that give you a visual idea about this unique tattoo trend.

7.A Trash Polka Tattoo On Feet
Trash Polka designs look good anywhere on the body, including feet. This feet tattoo looks exquisite, and perhaps, this is the best Trash Polka we have seen so far on this topic. The reason we called it best is that it clearly highlights the core essence of Trash Polka design, which is highlighting two contradicting elements such as life and death in a single form of art. The tattoo is easy to understand, and it's neatly done as well. If you are exploring Trash Polka design ideas, this body art certainly deserves your attention.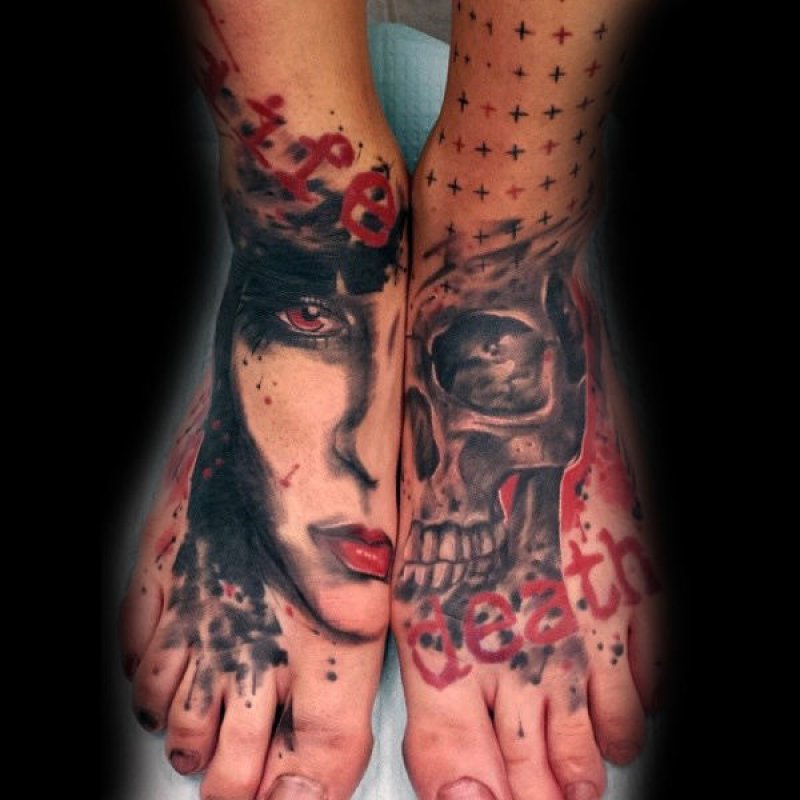 8.This Trash Polka Clock
It appears to be a small tattoo, but it isn't. Visibly, it occupied a good portion of the lower abdomen. The tattoo looks good overall, but that those red smears on the top of clock art look like a bad skin bruise. The birds look good, but the black blotches around them kind of appear like patches of dirt. The highlight of this tattoo though is its meaning. The wearer conveyed the message, "Time flies," by cleverly using a clock and a bunch of flying birds.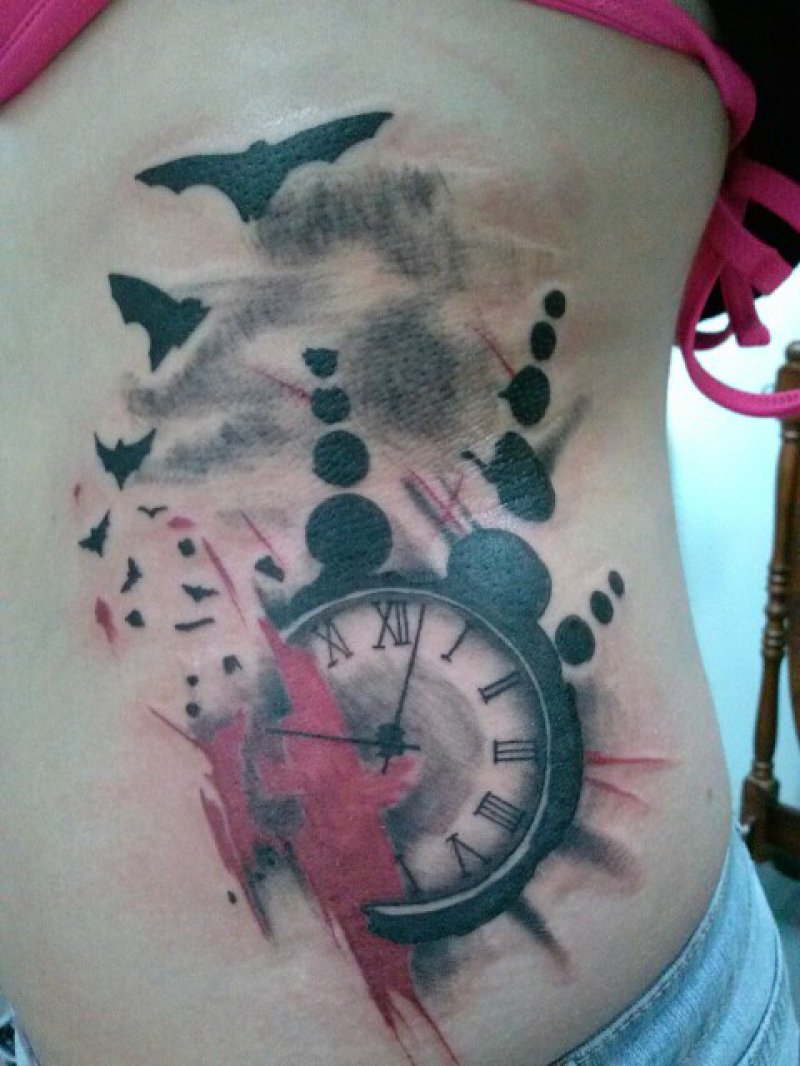 9.This Trash Polka Tattoo On Chest
This tattoo seems to have a deep meaning. Going by the pictures of a photographer, buck, compass, and woodland, it gives us an impression that the wearer might have been an avid wildlife camper. Those red color smears that seem to replicate bloodstains might refer to a tragedy in their life. It isn't one of those visually beautiful tattoos, but it still stands out from the rest because of the way that person tried to tell a story using nothing but body art as a means.