15 People Who Were Caught Taking A Quick Nap At Work
Saturday, Jan 2, 2021, 5:51 pm
How many of you feel sleepy during work hours at office? We guess many of you feel. Go to any office and you see at least half a dozen people trying everything they could to stop falling sleep. A quick nap will not solve their problem! Why? It's all because of bad lifestyle habits like sleeping late at night. Feeling sleepy during day time can be a symptom for underlying sleep disorders or just incurable laziness. Here are 15 people(like some of us) who were caught taking a quick nap at work.

10.How to Take a Nap at Work Without Anyone Noticing
This guy is very intelligent! You can clearly see what he did there! Now the supervisor, manager or even boss doesn't know where this guy is, unless they are searching for him. Next time when you are attempting to do something like this, make sure no crane loads you into a truck thinking it is cargo!

11.F*ck this S*it, I'm Out!
Have you ever felt so sleepy in office that you actually want to sleep under the cubicle? Imagine how sleepy that guy was, as he proceeded to sleep right on floor under his cubicle. Had he missed last night sleep? Was he sick? We never know! However, this is yet another 'caught taking nap' picture we have been talking about for a while.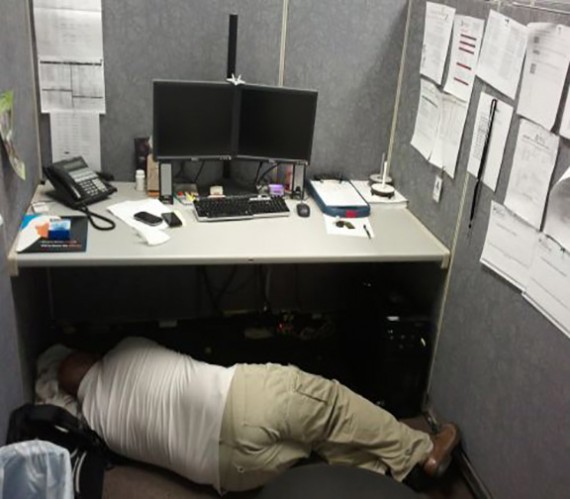 12.Most Comfortable Way to Take a Nap at Work
If you are little creative, you can find cool ways to take a nap at work. You don't need to sleep on floors or under cubicles. This guy as you can see in the image could have slept inside that vehicle's driver cabin. He knows that will not be comfortable. So he came up with his own idea and made a nice setup to take a nap under warm sun.