15 Cutest Disney Tattoos That Will Make You Want To Have One
Thursday, Aug 20, 2020, 7:24 am
Choosing a tattoo is a tough job. There are far too many tattoo categories to choose from. Abstract designs, flowers, cartoon characters, quotes,
3D Tattoos
, what not!!! Tattoo research is an exhaustive job. The rule remains same, though. The tattoo has to be creative, understandable and neatly-inked otherwise; it may lead to
tattoo disasters for the internet to laugh about
. Disney cartoon characters are also a popular tattoo choice. Cartoon character tattoos reflect playful nature of a person. Here are fifteen Disney tattoos that look too beautiful.
#11 Jiminy E. Cricket


Jiminy Cricket is a popular Disney character from Disney's animated movie Pinocchio. As you might have already known, The Pinocchio movie is based on a children's book The Adventures of Pinocchio, written by Carlo Collodi. The original character in the book has no name, and no real significance. Disney transformed the unnamed character of the book into 'Jiminy Cricket'.
Jiminy Cricket is known for whispering advice to Pinocchio, and now it looks like he's doing the same for this woman. That placement was smart, although it looks a little odd. Jiminy is one of the smallest Disney characters, but he looks larger than life here in the tattoo. The tattoo is the exact replica of the character down to the umbrella in his hand.
We have to appreciate the tattoo artist as well. The tattoo was neatly inked. It looks exactly like the original Jiminy Cricket character.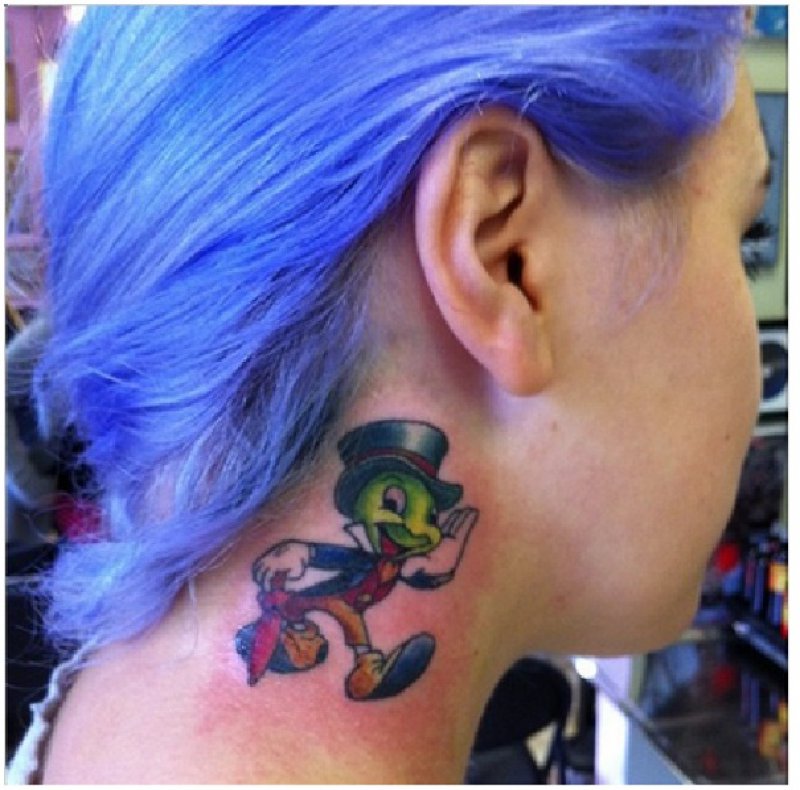 Report