15 Top Hunting Games For Mobile
Wednesday, Aug 26, 2020, 7:29 am
Hunting. Many of us may not like the idea of killing an animal in the name of a hobby. However, a few people take immense pride in bringing down wildlife creatures. Unless you are a rich person, there is no way you can become an active trophy hunter. However, if you have a raging urge to become a hunter, there is a way, It is through playing hunting games! That is indeed the best way because you are not physically hurting any animal, but still feel proud of your immaculate shooting skills! Check 15 best top-rated hunting games for mobile.

7.Hunting Safari 3D
Hunting Safari 3D is for people who don't settle for less. The high-featured hunting game lets players kill different kinds of animals with a broad range of weapons that include pistols, handguns, assault and sniper rifles, etc. As a player, you can hunt animals while on the walk or drive a car or even a motorboat. You will become a famous hunter if you keep killing big animals like elephants, lions, and rhinos. Hunting Safari 3D too has engaging game missions that don't let people get bored quickly. It is free to download, but at some point, you would be compelled to buy gold coins to keep progressing.
Game: Hunting Safari 3D
Price: Free to Install and Play, Optional In-app Purchases
Downloads: 1 Million to 5 Million
Ratings: 23,000+
Average Rating: 4.2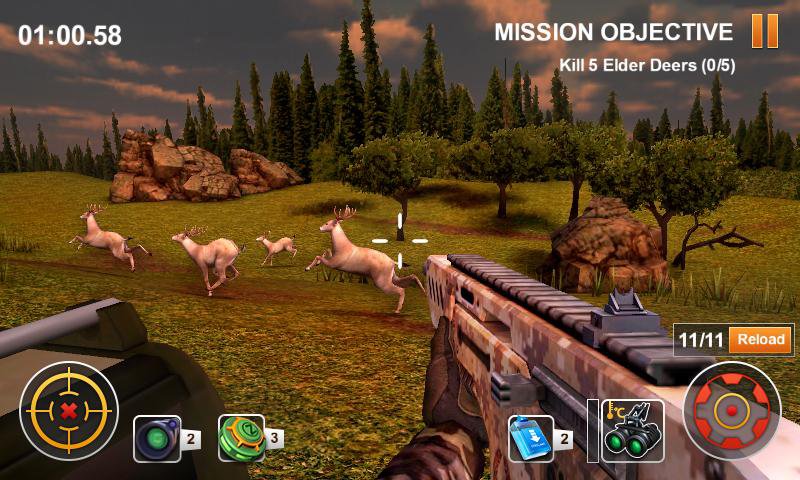 8.Jungle Sniper Hunting
Jungle Sniper Hunting is reminiscent of the late 90s PC games that used to have paltry graphics. Though the graphics of the game aren't the best, Jungle Sniper Hunting remains one of the most downloaded hunting games in the mobile segment. The game has more than 5 million downloads. One of the few positives of the game is that there are many animals besides deer and boars to kill. The game has eight levels. If you use a high-end smartphone, this game may not impress you. Nonetheless, it isn't that bad to kill some time.
Game: Jungle Sniper Hunting
Price: Free to Install and Play, Optional In-app Purchases
Downloads: 5 Million to 10 Million
Ratings: 85,000+
Average Rating: 3.6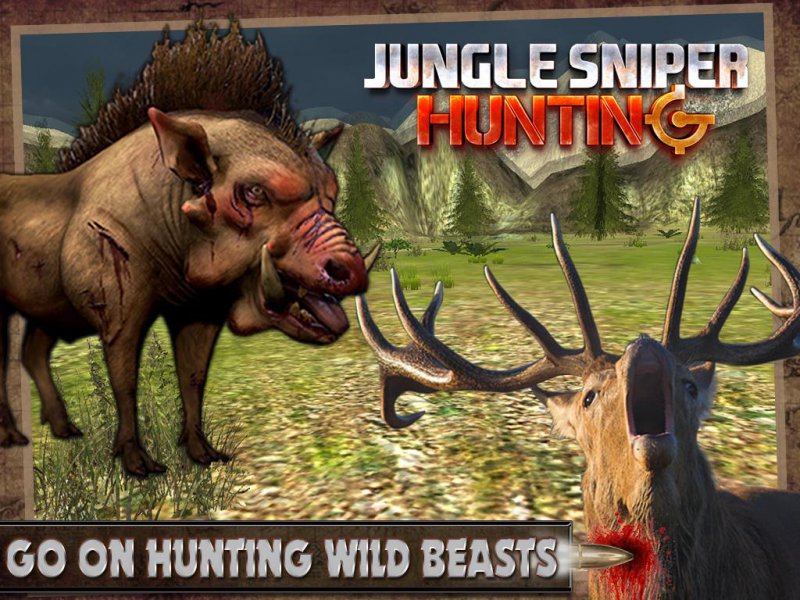 9.Archery Hunter 3D
Archery Hunter 3D is a hunting game too, but the only difference is that you will be killing wild animals with a bow and arrow, not a gun or rifle! Do you love hunting and archery? If so, you will enjoy playing this game a lot. Archery Hunter 3D is a level-based game. As a player, you need to improve your skill to proceed to further levels. You can hunt animals either on a horse or foot, running in the jungle. The game has good graphics, although they are not the best.
Game: Archery Hunter
Price: Free to Install and Play
Downloads: 500,000 to 1 Million
Ratings: 4,950
Average Rating: 3.6