The Importance Of Windows To Your Home
Friday, Mar 26, 2021, 7:54 am
Windows play such an important role to a house, yet many people seem to pay too little attention to them when designing the plans to build a new home or when looking at existing homes to buy.
However, the value and significance of home windows should always be taken into consideration and moved closer to the top of your list of the important aspects of your new home or when renovating an existing home.
Windows can have an impact on the overall function of your home in areas of convenience, efficacy, safety and security, act as a sound barrier and add visual appeal and resale value to your home.
#1 Energy Saving Tips Using Window Curtains


These tips will keep you comfortable all year round if you make them a habit, as well as helping to keep your energy costs low.
Spring and Summer Seasons
Light colored curtains will naturally deflect unwanted heat from the sun away from your home. Close your curtains on any windows that face south and west during peak sunlight hours when windows have the most exposure to the direct sunlight.
Winter and Fall Seasons
Give your heating system a rest by opening the curtains on windows facing south and west during the day. The natural heat from the sun will keep you warm and comfortable without excessively running your furnace. Close the curtains at night to keep the warm air indoors.
Aesthetic Appeal of the Right Window Curtains
The right window curtains do more than save you on energy costs and help keep you warm or cool. They will also add to the mood, appeal and comfort of every room in your home. Whether you are decorating for your own appeal or staging a home to resell, here are some ideas for curtains in different rooms of the home.
Cozy Kitchens
Your kitchen is probably one of the main rooms in your home, so you want curtains that are simple so as not to take away from the style and
appeal of your kitchen
. If you only have one or two windows in your kitchen, keep the colors and style of the curtains light and simple with colors that complement the overall theme of the room.
Unlined café style curtains with valances are also best for kitchens since they are easier to wash. You also want to make sure that the curtains are non-absorbent and flame resistant.
Comfortable Living Rooms
Lined curtains add elegance to a more formal room such as the living room. The lining allows the curtains to hang nicely while adding in the insulation of the room during excessively hot or cold seasons. Lined curtains also provide better light filtering when you want to darken the room.
Long, sweeping curtain styles give an elegant appeal to any living room, dining room or bedroom and linen or cotton works best for this room.
Bedroom Privacy Curtains
As with the curtains in the living room, lined curtains in the bedroom will help darken the room, but they will also aid in the privacy of the room by not allowing others outside to see into your personal space.
Long curtains that touch the floor also add an aesthetic appeal to this room and thermal curtains will help reduce any outside noises.
Functional Bathroom Curtains
The style of bathroom curtains may depend on the size of your bathroom window. For smaller windows, you can opt for café and valence style for this room too. For a larger window, you can choose curtain panels.
The fabric for bathroom curtains should be non-absorbent to odors and resistant to moisture while being easy to clean. Linen and cotton fabrics work very well in bathrooms.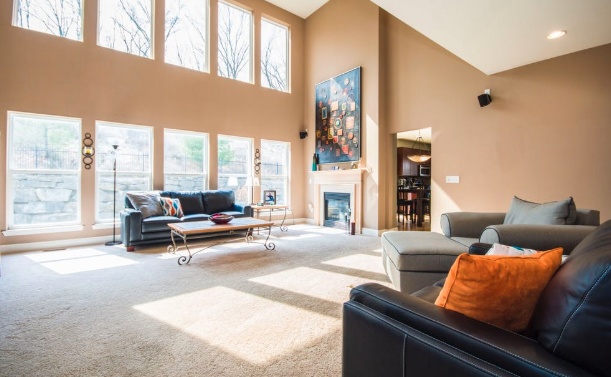 The Bottom Line on Windows in Your Home
Whether you are designing the plans to build a new home or you have found the home you have always dreamed about, always consider the home's windows. They play such a huge role in the overall function and aesthetics of your home that they should never be last on your list when upgrading an older home, staging a home to resell or when laying out the plans to build a new home.
Report