15 Times People Exposed Their Cheating Partners On Facebook
Friday, Aug 21, 2020, 5:18 pm
When there was no Facebook or Twitter, people used to try different methods to expose and shame their cheating partners! However, people these days need no more than social media to do the same. Here are fifteen pictures of cheaters being exposed on Facebook by their estranged partners.

1.Should We Have "I Cheated" Status on Facebook?
We see two broken hearts here! First - the guy who got engaged to this lady might have had a real bad time knowing that she cheated on him. Second, that random invisible guy who was hoping her to become single again, could have felt really bad knowing she had another secret boyfriend! Things were indeed complicated!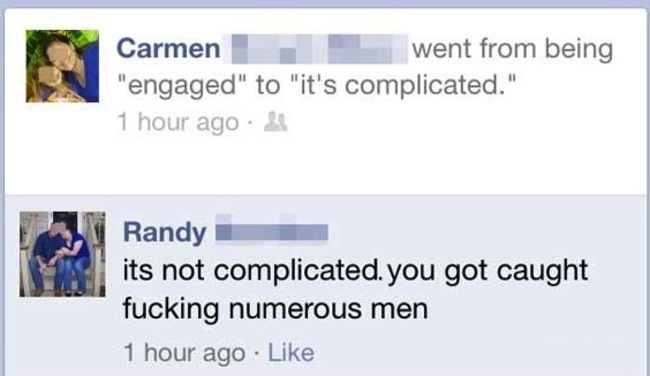 2.STDs add insult to injury!
Now, the world knows Jamie has cheated on his girlfriend Natalie. We all came to know he had some kind of STD (sexually transmitted disease). We feel sorry for Natalie. Cheating isn't a great thing. Having multiple sexual affairs with men or women (or both!) without protection is worse. If people come to know you have STDs, you may never get that right partner again in life.
3.Is It the Black 38-C?
This is hilarious! It looks like he fell for the 'booby trap'. As you can see in the image, he asked which bra the girl was talking about. He tried to cover up, but failed terribly! This is one of the funniest images we have seen so far. Read again, you will laugh once again!