15 Most Inappropriate Disney Tattoos Found On The Internet
Sunday, Mar 28, 2021, 4:18 pm
Disney characters are a popular tattoo choice. Millions of people around the globe identify Disney characters. They are cute and adorable. Most of us grew up watching Disney movies and TV shows, and we have a deep emotional connection with them. Some People choose beloved Disney characters over random designs or picture for a tattoo. Some ardent fans get Disney tattoos as a tribute to their favorite shows or characters.
We usually have an impression that
all Disney tattoos are cute
! In reality, they are not. Some people tattoo Disney characters in the most inappropriate way possible. They make cute characters look creepy, devilish or sluttish. Such tattoos look so horrible that they give us nightmares. As a Disney fan, you may find those tattoos completely offensive.
Check these fifteen shocking Disney tattoos that we believe shouldn't exist in the first place! Zombie Snow White… nude Ariel… psychopath Tinker Bell and many other inappropriate Disney tattoos are all set to surprise you! Check them now!
10.Seven Dwarfs And A Butt Crack
Apparently, the tattoo only has six dwarfs. Where is the 7th dwarf hiding? We guess he might have sneaked into this guy's butt! Somebody tell them that Snow White doesn't live there! If you look closely, the dwarfs on the left side of the butt crack look excited! The three on the right side look extremely disappointed and depressive. It's obvious that people become depressive when their life goes through some real sh*t! Well, this male tramp stamp looks ugly and repulsive anyway. The tattoo is 'deeply' disturbing to all Snow White fans!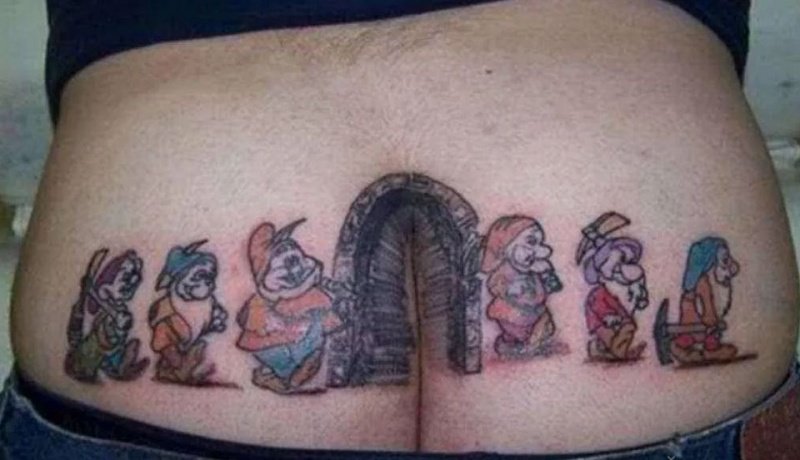 11.Snow White Once Again
As we already told Snow White could be that Disney princess who appears most on awkward Disney tattoos, along with Tinker Bell. What does the tattoo artist do to Snow White this time? The artist turned her into a 'mature' princess, who is happily showing off her red underwear!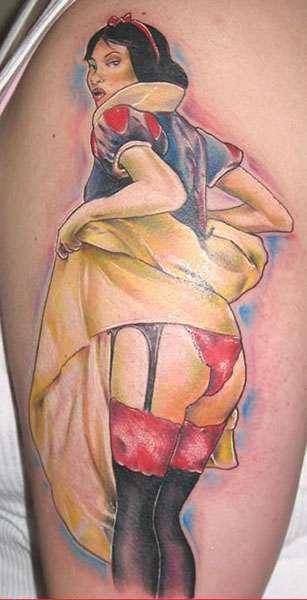 12.Badass Eeyore
We know Eeyore is one sad little Donkey, but never know he can be this badass! This is another inappropriate Disney tattoo that will freak the life out of people. Look closely, you will see dead piglet's head in his hands!