15 Most Inappropriate Disney Tattoos Found On The Internet
Sunday, Mar 28, 2021, 4:18 pm
Disney characters are a popular tattoo choice. Millions of people around the globe identify Disney characters. They are cute and adorable. Most of us grew up watching Disney movies and TV shows, and we have a deep emotional connection with them. Some People choose beloved Disney characters over random designs or picture for a tattoo. Some ardent fans get Disney tattoos as a tribute to their favorite shows or characters.
We usually have an impression that
all Disney tattoos are cute
! In reality, they are not. Some people tattoo Disney characters in the most inappropriate way possible. They make cute characters look creepy, devilish or sluttish. Such tattoos look so horrible that they give us nightmares. As a Disney fan, you may find those tattoos completely offensive.
Check these fifteen shocking Disney tattoos that we believe shouldn't exist in the first place! Zombie Snow White… nude Ariel… psychopath Tinker Bell and many other inappropriate Disney tattoos are all set to surprise you! Check them now!
7.Oh Tinker Bell, What Have You Done?
This isn't any art, this is pure gore! Check how a tattoo artist drew Tinker Bell like a serial killer. Tinker Bell is one of the prettiest characters in entire Disney franchisee. Tinker Bell is a Disney fairy. She is very popular and well known throughout the world for her charming looks. Check this tattoo, and we bet you will go mad at this guy if you are a Tinker Bell's fan.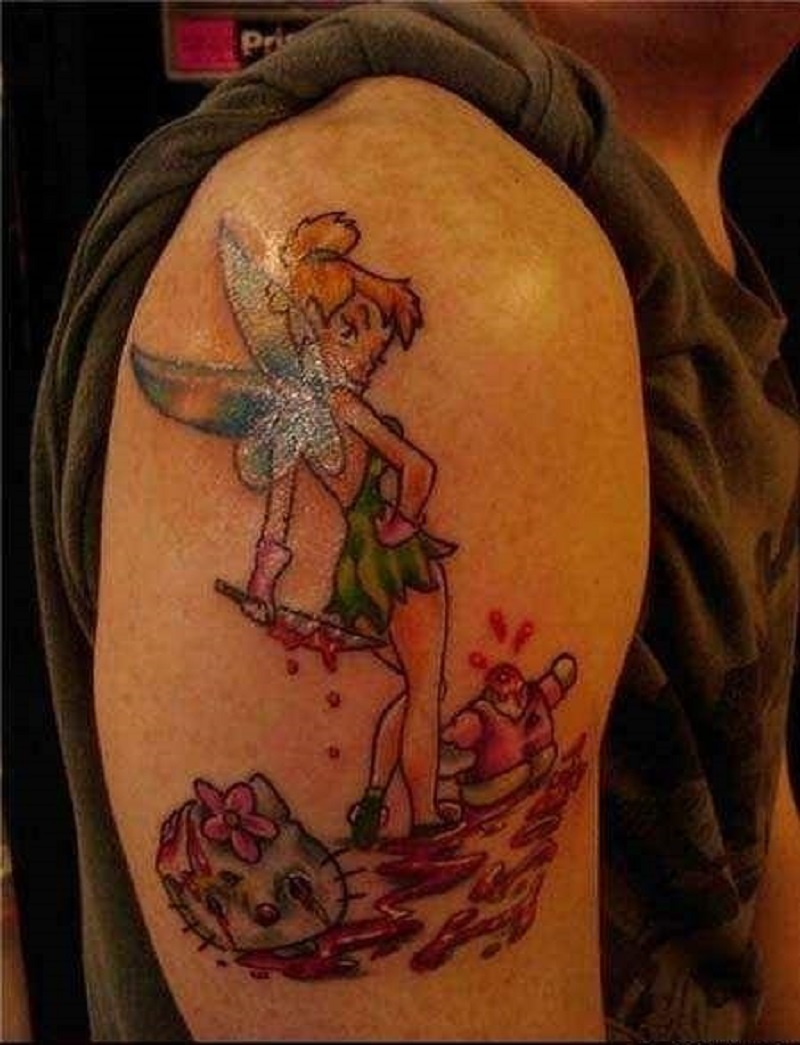 8.Mickey and Minnie Doing that Thing
This is awkward! Meet two legendary Disney characters Mickey Mouse and Minnie Mouse caught on a tattoo doing the act! Why do we see tattoos like these? When we question, we will only hear a question back, "why not?" Imagine what it will be like when this person visits Disneyland with this tattoo on his or her body!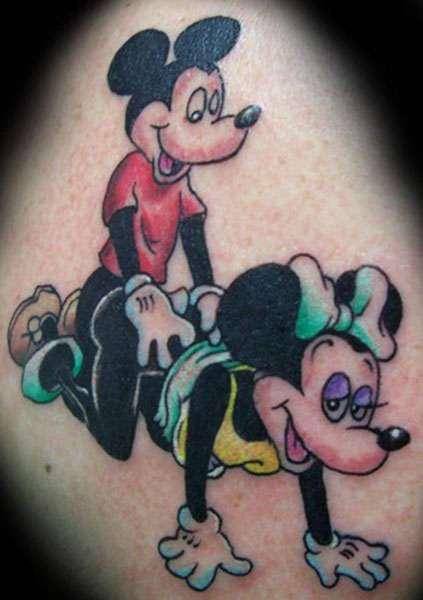 9.Thug Life Tigger
Tigger is a silly and playful character you will see in Winnie the Pooh. Tigger in this tattoo looks all fired up with guns and stuff, making him look like a thug. This isn't as bad as other tattoos we have seen, but considering Tigger's playful character, this tattoo looks a bit awkward.