15 Hilarious Comebacks That Will Make You Laugh
Saturday, Aug 22, 2020, 4:06 pm
Unfortunately, some people on this planet are so dense that their stupidity starts leaking from their mouth while they talk. We don't specifically hate
brainless people
, but they irk us a lot when they try to propagate idiocy. Hey, we were trying to sound formal, but the title of the topic actually meant, "dumb people getting burned!" We are pretty sure this topic's going to oddly-satisfy all you readers who enjoy seeing dumbheads getting owned. Read the hilarious comebacks that charred the pride of these 15 stupid people to ashes!
13.Which is Very Important
How to stop people who don't stop posting
about Justin Bieber
? Reply them with something like this. This is a very common question you hear from Bieber fans – 'what do you have'? It looks like the guy there had enough of that girl.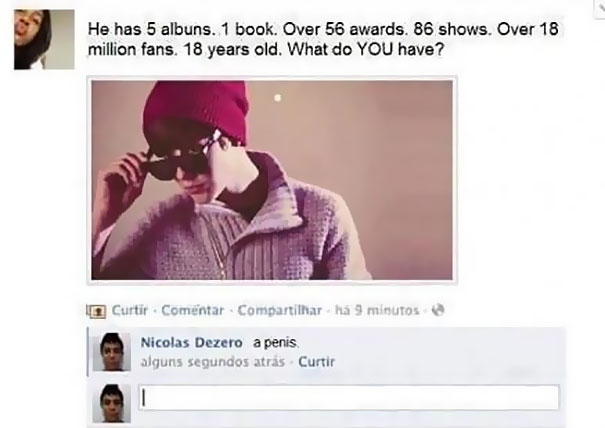 14.Remember, Getting a Job at McDonalds Isn't Easy
We hear many people saying 'McDonalds, here I come' or ' Aldi, here I come' when they don't do well in their exams. In reality, stupid people can't even get a
job at places like McDonalds
. Aldi reacted strongly to a girl who said 'going to end up working in Aldi'. You need some skills even if you have to get a job at McDonalds.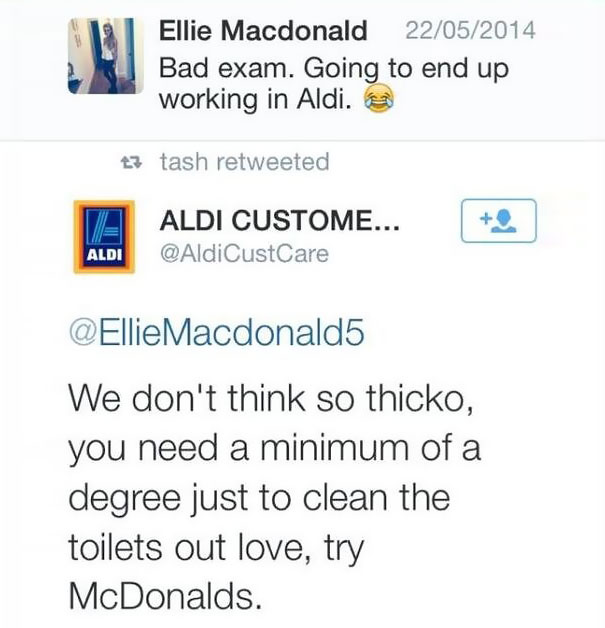 15.Brand Wars
This isn't fake. This is one of those popular brand feuds happened on social media. It was Old Spice that started this funny fight asking Taco Bell why Fire Sauce isn't made with real fire! Taco Bell responded really well! Though old spice tried to cover up the whole thing with another tweet, that doesn't stop them from coming out as losers!