12 Best War Strategy Games For IOS And Android
Tuesday, Aug 18, 2020, 6:57 am
We, humans, have fought numerous wars. In the beginning, we battled for food, water, and other natural resources. Lately, we have been fighting over religious beliefs, territorial disputes, political theories, oil, etc. Be it a military conflict between two nations or a minor scuffle between people, it is usually caused by that squabble gene in our DNA that has been there since the dawn of humanity. Many of us love winning fights, Sadly, we hardly get an opportunity to involve ourselves in a full-blown combat. Compensate the disappointment and engage in a fully-fledged virtual war with the help of these 12 best war strategy games for mobile.

4.Plants Vs. Zombies
Plants vs. Zombies is a very popular combat strategy game. A war strategy game need not always involve people. It need not necessarily have serious gameplay. This game, Plants vs. Zombies proves that. In this game, you raise an army of funny zombie-zapping plants in your garden to keep undead from invading your home. Raise peashooters, wall-nuts, cherry bombs, and 40+ different kinds of plants that destroy 20+ types of zombies. Plants vs. Zombies has 50 exciting levels to play. It is a fun and
addicting zombie survival game
. This game by Electronic Arts has good graphics and gripping gameplay.
Game: Plants vs. Zombies
Price: Free to Install and Play, Optional In-app Purchases
Downloads: 100 Million to 500 Million
Reviews: 3 Million+
Average Rating: 4.5
5.Game Of War - Fire Age
Game of War - Fire Age is another high-featured war strategy game. It is a full-blown combat game that lets you build an empire, raise an army, and create epic weapons. Increase your military strength and wage wars against numerous kingdoms as shown on the game's world map. Join other players around the world and form powerful alliances. Use brute force or persuasive abilities, It is up to you! Your ultimate goal, of course, is to become a world conqueror. Game of War - Fire Age has decent graphics and good gameplay. It does have some technical issues, but they aren't big enough to omit this game from the topic.
Game: Game of War - Fire Age
Price: Free to Install and Play, Optional In-app Purchases
Downloads: 50 Million to 100 Million
Reviews: 1.4 Million
Average Rating: 4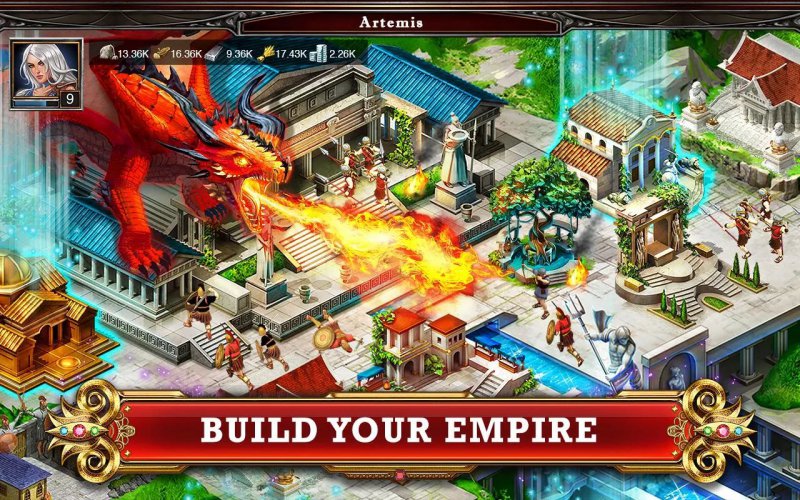 6.Clash Of Kings
Clash of Kings is an online PVP (Players vs. Players) MMO game that has classic combats, throne battles, dragon fights, and many more interesting war elements. It lets you build a kingdom from the scratch, train a massive army, conquer enemies' territories, and plunder their wealth. Make allies. Raid your enemies as a team. Since Clash of Kings is an online game, you need to make smart and instantaneous strategic decisions. Clash of Kings is free to play, but someone who can spend real money on it has the best chance of winning battles.
Game: Clash of Kings
Price: Free to install and Download, Optional In-app Purchases
Downloads: 50 Million to 100 Million
Reviews: 1.8 Million+
Average Rating: 4.2