15 Terrible Jokes That Are Actually Funny
Tuesday, Aug 18, 2020, 8:38 am
This topic is a collection 15 offbeat jokes that need you to dig deep to find the joke! They sound outright terrible, but boy, when you manage to fish the humor in them, you are going laugh very hard. Nerds or wordsmiths should get the jokes straightaway. To help the rest of the people, we have neatly explained the joke. Don't read the description above the pictures unless you think you can't crack open the joke on your own! Hey, reread every joke a couple of times, and we are sure you will get it. We are saying it again; these jokes are terrible, but they are hilarious as well.

4.Indeed a Big a Waist of Time
This joke is hilarious. We hope you really enjoy this nice pun. We hear lots of puns as jokes, quotes, catchphrases and
stupid pickup lines
. The humor in pun depends on how well the words, spelling, meaning etc are lined up to create humor. Good pun is its own reword!
5.This Funny Sea Otters Joke
Oh boy, aren't sea otters cute? Yes, they are; until you learn the fact that the cute little animals are huge jerks, and they rape and kill baby seals. They are very aggressive than what you may think about them. Did you know, you are more likely to be attacked by a sea otter than a shark? On the adorable side, two otters hold their hands while they sleep just to make sure they don't drift away. Coming back to the topic, this is yet another funny joke that makes you giggle. You are going to like it a lot if you love puns!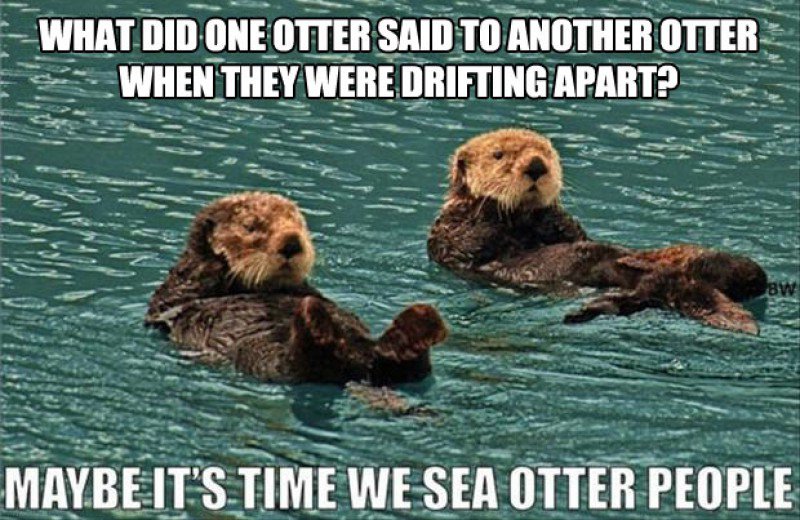 6.This Calendar Pun
They may have stolen a calendar hoping for some dates! This one too is a cool and humorous joke which is actually a pun. As you can read from the image, two guys got six months each because they stole a calendar. Isn't this a very good pun? We hope you like this joke.