15 Dumb Yahoo Questions That Will Make You Cringe
Monday, Aug 16, 2021, 6:43 am
Back in those days when Yahoo was ruling the Internet, the cyber giant had introduced numerous online initiatives. Yahoo Answers was one of them. It has been serving people since its inception in 2005 by helping people to get quick answers to their questions or general inquiries. Yahoo Answers has this bad reputation of hosting too many low-IQ and pathetic questions and answers on its website. It's now the time to check 15 of those dumbest Yahoo Questions ever asked. Yahoo was once valued at more than $100 billion, but Verizon has recently acquired it in a meager $5 billion tech deal!

7.This Stupid Question
We hope that this guy is just trolling people around. We hope so because the fact that he was hurting his turtle would hurt us too. Though we all prefer keeping them secret, some of us have weird behaviors. There is nothing wrong with such behavior as long as it is not hurting you, or people or animals around.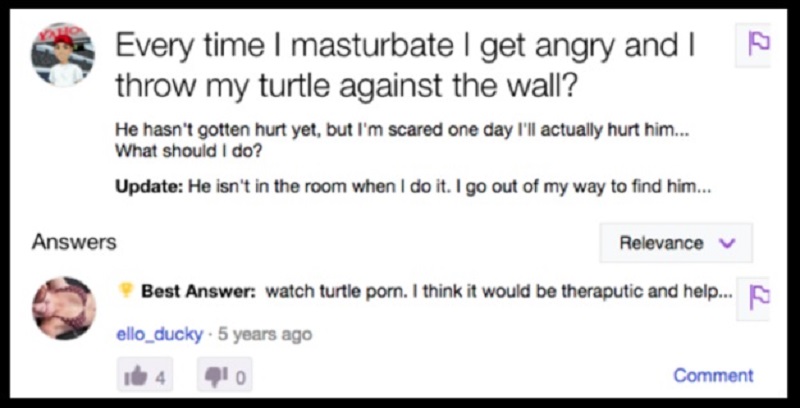 8.This Expert Gas Smeller
We bet you have already started laughing at this question. This question is so stupid that we haven't heard anything more stupid than this in recent times. Apparently, she suspects his
husband of a possible case of infidelity
just because his gas smells different! Well, lady, that's not how it works!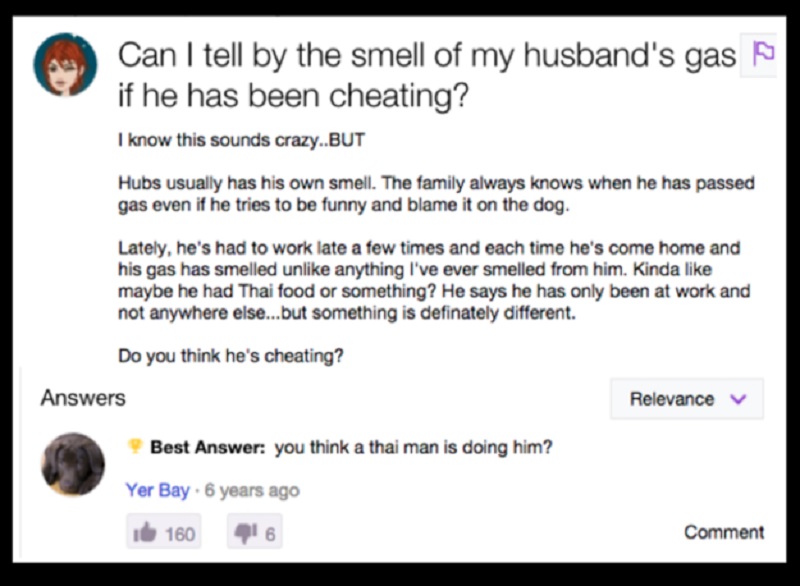 9.This Ridiculous Question
This question is the reason you shouldn't skip your biology classes. It's impossible to impregnate a fetus. You CAN have sex during pregnancy unless your doctor specifically tells you not to mate. That doesn't mean you can straightaway start doing it. You need to talk to your doctor and get some advice before going with it. The doctor may suggest some techniques that don't put pressure on her stomach.