12 Hilarious Drake Memes That Will Make You Sad And Then Laugh
Tuesday, Mar 30, 2021, 1:42 pm
Drake started his career as an actor in the early 2000s and went on to play a recurring role in a Canadian teen drama series named "Degrassi." Drake said he always wanted to become a rapper but stuck to acting for good five years because he had no other way to support his low-income family and sick mother. His life should inspire anyone who wants to achieve something great in their life but couldn't because of setbacks and obstacles in their life. The way he financed his dreams is outstanding. Getting back to the point, we listed some funny Drake memes here for you to see and laugh, so go ahead doing that!

7.When Your Girl Is On Her Period!
Girls behave and react differently when they are on their period. As a boyfriend, you need to understand that the behavior is quite typical and figure out ways to calm her down, so she won't go crazy now and then. Offer her some food, a gentle tummy massage, and invite her to watch a movie with you. Despite doing all these, if she still tells you to back off or go away as depicted in this meme, simply obey her orders because she wants to be left alone.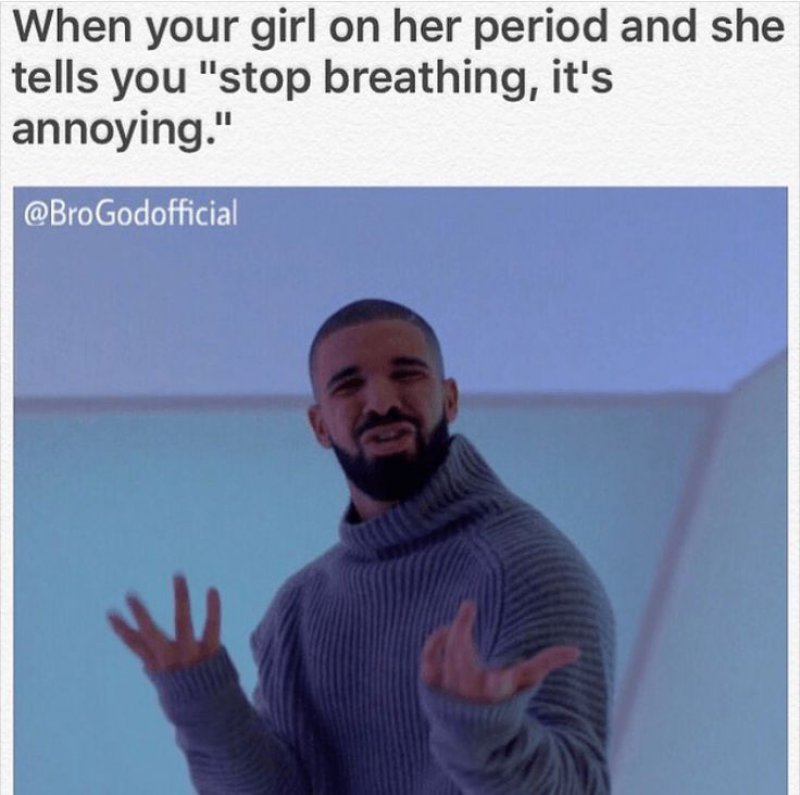 8.This Unfortunate Situation!
Never hang out with a side chick or side dude in the same city or town where your partner lives! By the way, do you remember that long and passionate kiss Madonna planted on Drake's lips during Coachella 2015? Drake was clearly unhappy with that kiss, and he did put up a disgusting face right after Madonna stopped sucking his lips! He later clarified that he loved the kiss, but the smell of Madonna's lipstick grossed him out. A lot of people criticized Madonna for her act, and the 58-year-old pop star hit them back harshly, telling them to stop following her if they hated her bold behavior during her live performances.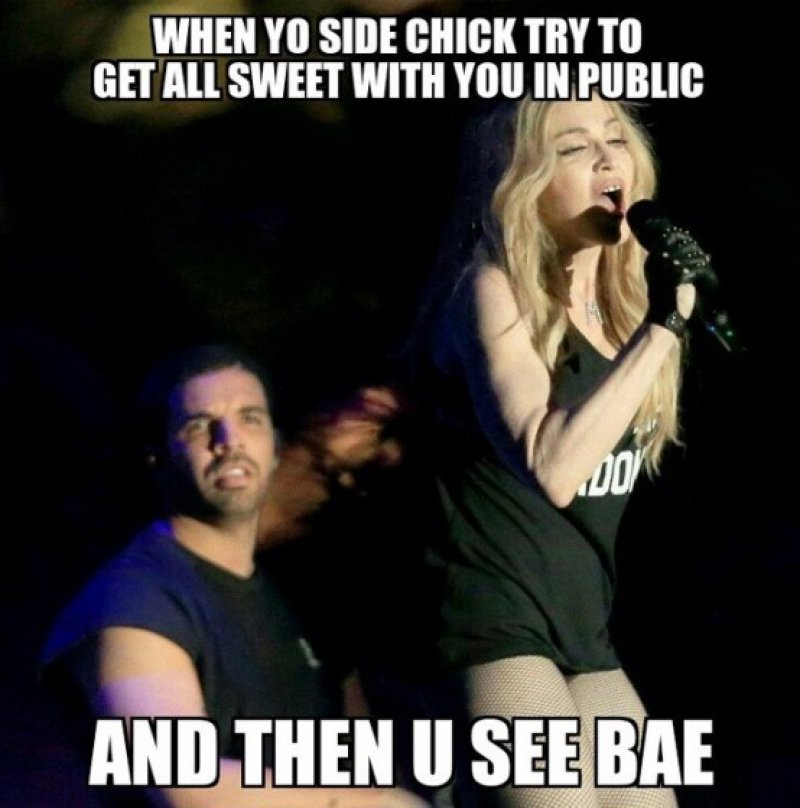 9.Started From The Bottom, Now We Are Here!
"Started from the Bottom"
is one of the most famous songs of Drake, and it is one of his few early songs that set him apart from other rappers and paved his way to becoming a famous rapper. The lyric perfectly suits Drake because he really started from the bottom and went on to become a highly successful singer. As you may know, Drake portrayed Jimmy Brooks in the Canadian teen drama television series, "Degrassi." During Season 4 of the show, Jimmy Brooks gets paralyzed waist down as the result of a school shooting. That's the story behind this Drake's wheel chair picture.