15 Cutest Disney Tattoos That Will Make You Want To Have One
Thursday, Aug 20, 2020, 7:24 am
Choosing a tattoo is a tough job. There are far too many tattoo categories to choose from. Abstract designs, flowers, cartoon characters, quotes,
3D Tattoos
, what not!!! Tattoo research is an exhaustive job. The rule remains same, though. The tattoo has to be creative, understandable and neatly-inked otherwise; it may lead to
tattoo disasters for the internet to laugh about
. Disney cartoon characters are also a popular tattoo choice. Cartoon character tattoos reflect playful nature of a person. Here are fifteen Disney tattoos that look too beautiful.
#13 Beauty And The Beast Rose


The Enchanted Rose Tattoo is another beautiful Disney-inspired tattoo. Unlike the many other Disney tattoos we have seen so far, this tattoo is not based on a Disney character. Apparently, the tattoo resembles the enchanted rose, a mystical rose flower that has a great significance in the
Beauty and the Beast movie
.
Beast, when he was a human prince, got this enchanted rose from a beautiful enchantress who disguised herself as an ugly old woman. When Beast refused to provide shelter to her, she punished him by turning him into a beast. Beast would get his human form back if he learns to love someone and earns it back from them.
The other thing in the tattoo that caught our attention is Harry Potter's time turner necklace. It looks like the person who had this tattoo was trying to convey some kind of message! Can you guess what it is?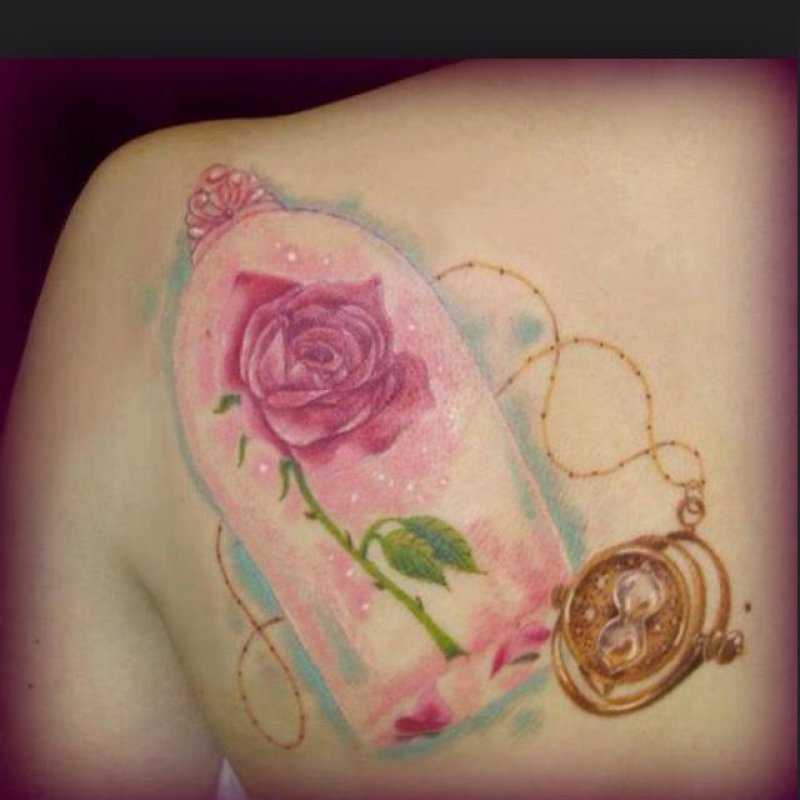 Report